The definitive guide to junk removal
Image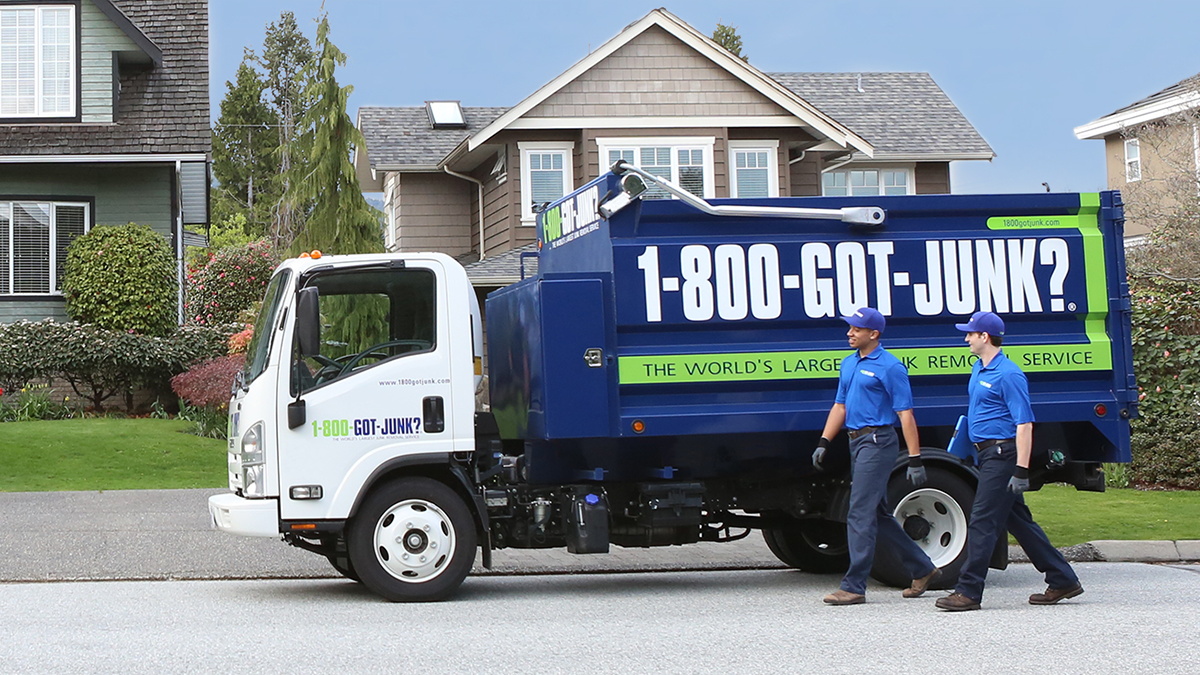 When you're decluttering your home, moving to a new neighborhood, or relocating to a new office space, you might benefit from junk removal services. Often, the biggest obstacle when preparing for a move is trying to clear out stuff you neither want nor need. Whether you're cleaning your office or clearing out your garage, junk removal services can make it easier by taking unneeded items off your hands so you can focus on what you want to keep. To help you navigate this guide, refer to the table of contents below. 
Table of contents
Section 1 | What is junk removal? 
Section 2 | DIY or hire a junk removal company 
Section 3 | Learn more about 1-800-GOT-JUNK? 
Section 4 | History of junk hauling and removal 
Section 5 | How does junk removal help the environment? 
Section 6 | Ocean trash and space junk 
Section 7 | How we recycle junk
Section 8 | Concluding thoughts
What is junk removal?
Junk removal is an essential part of the decluttering process, focusing on the task of disposing of junk properly. A standard trash can or regular trash pickup service will simply dump your junk into nearby landfills and walk away. Junk haulers help reduce the amount of recyclable items that end up in landfills by ensuring materials get disposed of in an environmentally safe way. 
While only 31% of Americans recycle, most junk hauling companies have some version of a green initiative or environmental commitment that represents their recycling goals. Junk removal companies know they play an integral part in extending the life of our natural resources and recycle or donate whenever possible.  
Junk removal can take other forms too — contractors who help renovate homes will likely need the support of junk removal companies for their building sites. Junk removal companies identify strategic locations for renovators to dispose of construction debris without slowing down the build process.
Who benefits from junk removal?
When you break it down, junk removal benefits everyone that would rather focus on their new or refreshed space. Whether that's a home or office, a decluttered area will do wonders for quality of life and productivity. Having junk removal services also allows people to focus on their busy lives and the things that are meaningful to them. 
Removal of junk furniture, like TVs and couches, can be a hassle to do by yourself. You have to take them down stairs, around tight corners, and pack them in to your vehicle. Then, you need to drive it to the recycling center or dump on your own. 
Junk removal makes the process much easier on you. Once you sort through what's junk and what's not junk, you get to sit and watch while professionals move bulky items out of your house. Plus, you won't need to worry about where to take it — junk removal specialists know where to take your junk to be properly disposed of, so you can rest easy knowing you're helping the planet. It's a win-win.
Types of Junk
When it comes to junk, we can take almost everything off of your hands. From large pieces of furniture like mattresses to tiny scrap metals or appliances, our team will do the job, so you don't have to. The only junk items that we are unable to haul away are your hazardous materials. There are two categories of junk removal, residential and commercial.
Image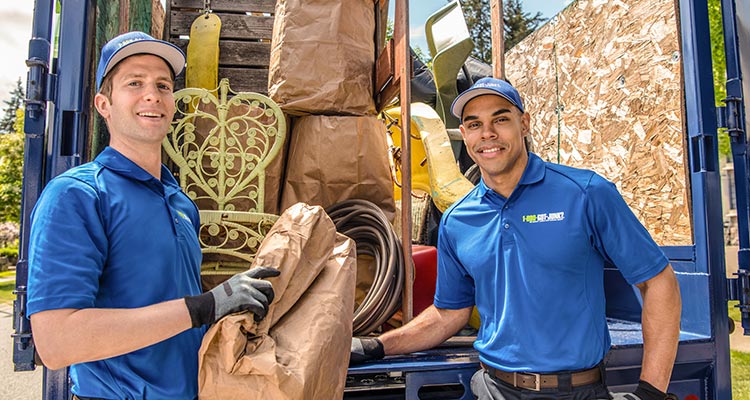 Residential junk removal
Whether you plan for it or not, junk tends to pile in the storage spaces of our home. When you have more stuff than you need, our residential junk removal experts will be there to help you out. Expect professional service as we clean out your garage, remove your exercise equipment, and even help dispose of any electronics (e-waste) in your home or office. Here are some examples of residential junk items:
Commercial junk removal
Office spaces and other commercial properties can become burdened with junk as businesses grow. Our junk removal experts help relieve this burden by taking your e-waste including computers, monitors, and printers. When you need to get the old out to make room for the new, just point and it'll be gone. Here are some examples of comercial junk items:
The difference between junk removal and trash removal
Ever wonder why there are garbage men and junk removal specialists? When it comes to knowing the difference between junk removal and trash removal, there are a few key things to keep in mind. 
Trash removal
Trash is the waste that can't be repurposed with our current technology. These are one-use plastics, cardboard products that have food on them, and coated paper products to name a few. In order to lower your carbon footprint, it is recommended to find recyclable substitutes for these items.
Junk removal
Junk can be many things. It is often bulkier, heavier items that require more than a quick toss to get it in the trash, but it can be small things like appliances and construction debris, too. More often than not, junk can be repurposed with another owner or broken down and recycled. Junk removal companies take environmental conservation seriously and work with you to ensure your waste is properly handled.
While they may differ slightly, they work together to accomplish the same goal – keeping our planet in tip-top shape. In fact, junk removal is a sub-industry of waste management, assisting the overall efforts. 
Junk haulers help in the fight against our overflowing landfills by redirecting junk-to-be-trashed and extending its shelf life. The longer junk items stay in a rotation of reuse, the less time they spend in our landfills. This simply adds to future environmental problems. 
Should I use a junk removal service or do it myself?
The age-old question: Do I clean it up myself or pay someone else to do it? 
When you use full-service junk removal, 2-3 people will come to your home or office, carry your discarded items outside, load it into a dumpster or truck, then take it away forever. They work similarly to hired movers, except the stuff is properly disposed of instead of moving to your new location.
When you put it into perspective, junk hauling services save more than time and energy. Whether you need junk removal for a mobile home or the corporate office, we can help take the stress of decluttering off your shoulders. Continue reading to learn more about junk removal rates and options.
How much does it cost to rent a dumpster?
If you want to do it yourself, the best way to remove junk is to consider a dumpster rental. 
According to CostHelper.com, the average dumpster rental prices range between $90 and $850 for a three to four day rental, including dump fees. This doesn't include how much it costs you in time and energy. 
When you choose a rental dumpster, you fill it up yourself, working hard every step of the way. You pay for every day you rent the dumpster, whether you work or not. The dumpster rental company is there to pick it up and drop it off — they do not help you remove your junk.
Contract lengths in the industry can vary, ranging from as little as a few days to more than a year.  
While there are certainly pros to DIY junk removal, it's more efficient to simply use full-service junk removal. When you consider the cost to remove junk from your house by yourself or paying someone to do it, it's only recommended for smaller projects. 
How do junk removal companies charge for services?
During the past few decades, the junk hauling industry has worked hard to standardize pricing. While the prices across the country are catered toward each region, there are still some variables that can change the final cost. 
Two major factors come into play when deciding junk removal prices: 
The first is the size of the junk, or how much volume it takes up in their truck
The second is how many trips it takes to properly dispose of your junk. In other words, the gas money
Price considerations: how much does junk removal cost?
Where you live can also impact the bill. Junk removal cleanouts in a big city like NYC is going to be more than it is in Topeka, Kansas due to the cost-of-living. Also, if you live far away from a recycling center or dump, you will end up paying a little more for the extra gas. 
Tipping etiquette: Should I tip junk removal specialists?
Our junk removal professionals work hard to remove junk from your home while providing you with a seamless experience. While tipping is not expected, it is always appreciated, especially when the job is difficult. Here are some guidelines for tipping our junk removal specialists:
If you want to tip, but don't know how much to tip junk removal guys, consider how much you give to other service services like waiters or lawn care professionals
If you see someone working hard, reward them for it
Consider the difficulties they have to deal with such as hard to access items or weather conditions
What questions do I ask junk removal companies?
When you're considering junk removal companies, asking the right questions will lead you to the most qualified professionals for the job. Here are some questions to ask a junk removal company to help you get started:
Are you insured?
What types of junk can you remove?
Do you recycle?
How fast can you get the job done?
Can you explain your pricing structure?
Asking these questions will enable you to make the smartest decision in terms of price and project scope.
Tips for safely removing junk yourself
Proper junk removal alleviates a lot of the risks associated with moving large or heavy objects on your own. Stay out of harm's way with these junk removal tips:
Wear clothing that you can work out in
Warm up before you lift heavy objects
Drink plenty of water
Use proper form, like bending at the knees, to prevent injuries
Identify the junk as safe to remove (be sure it isn't hazardous!)
Work within your limits
If you start moving your junk and realize it's too much to handle, give our professionals a call. We can help you free up more space in your home or office without you having to lift a finger.
Who is 1-800-GOT-JUNK?
1-800-GOT-JUNK? is a professional, customer-focused junk removal service under the leadership and vision of Brian Scudamore.  The company has grown what once was a one-man operation into the "Largest Junk Removal Service in the World." All of our success is because of one thing, our focus is people. Brian believes deeply in taking care of the people who will take care of the customers.
Image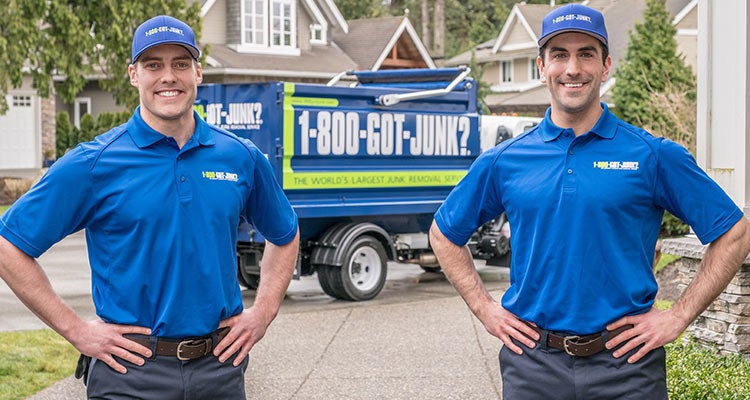 Founded in 1989, today we offer customers free onsite estimates, call them 15-30 minutes before their 2-hour appointment window, and give them an up-front, all-inclusive price. Customers point, and their junk disappears. It's that easy. 
From junk mobile removals, to attics, storage units, and more, just call 1-800-GOT-JUNK? or book your free no obligation estimate online, for all your junk hauling needs.
The history of 1-800-GOT-JUNK?
In 1989, Vancouver, Canada, then-college student Brian Scudamore searched for opportunities to make money when finally, he was inspired. While sitting in a McDonald's drive-thru, he spotted a beat-up junk hauling truck, and he thought to himself, "I could do that." 
Shortly after, he set out to create his own junk removal service, called The Rubbish Boys. With $700 for a truck and $300 for business cards and fliers, he set out to find customers. His girlfriend at the time recommended calling a local newspaper, the Vancouver Province, to tell his story. It made the front page and within 24 hours he received more than 100 offers.
Eight successful years later, averaging $1 million in annual revenue, Brian realized the next step in his vision – to bring the idea of "clean" to a dirty industry. He bought more trucks, hired better people, and changed the name to 1-800-GOT-JUNK?. His goal was to be franchised in the top 30 metros in North America and by the end of 2003 he accomplished it.
Since then, 1-800-GOT-JUNK? has grown to more than 150 locations in 3 countries. 
Learn more about 1-800-GOT-JUNK? removal prices
Back in the days of old, when junk removal companies were learning how to standardize their pricing, it used to cost a flat fee to get the work done. This model proved to be unsuccessful as it needed to take into account the effort of the workers, the distance they had to transport the junk, or the prices to dump or recycle. 
Today, junk hauling prices take all of these factors into account in order to keep the business open. Prices per item can vary depending on the amount of space it takes up in the truck. These rates are based on a number of factors (such as local disposal fees) and vary based on location.
How we price junk removal
We offer in person, no-obligation quotes and all-inclusive pricing so you know exactly what you're paying for. We follow a simple system where you pay for how much volume your junk takes up in our truck. 
Does 1-800-GOT-JUNK? donate?
At 1-800-GOT-JUNK? we see junk removal as a bigger responsibility than helping our customers clear space in their home. We know that the Earth is facing obstacles with landfills and recycling. 
To do our part, we ensure that all materials are brought to the right place. Recycled goods are taken to recycling centers, trash to the dump, and reusable goods are taken to be donated. 
Many customers who care deeply about the environment are also interested in our community impact initiatives. Each 1-800-GOT-JUNK? franchise picks a charitable initiative to partner with and make a difference in the communities they serve. These initiatives often result in diversion of items from landfills. Some of our favorite community work has taken place with Second Chance Toys, where our New Jersey teams helped redistribute over 250,000 gently used toys to children, and with Richard Byrd Library, where our DC team moved some 6,000 pounds of books and ensured they were diverted from a landfill to Velocity of Books.  
Junk removal locations near me
Finding quality junk removal companies near you is easier than you think. With locations across North America, our junk removal location finder streamlines finding the best place to start your junk removal journey. 
History of junk hauling and removal
Junk removal has come a long way from its humble beginnings. Where "one man and a pickup truck" businesses once existed, professional junk removal companies now stand, ready to tackle the trash crisis we currently face. While the modern era of junk removal was built by people like Brian Scudamore, the history behind this industry dates back for centuries.
Image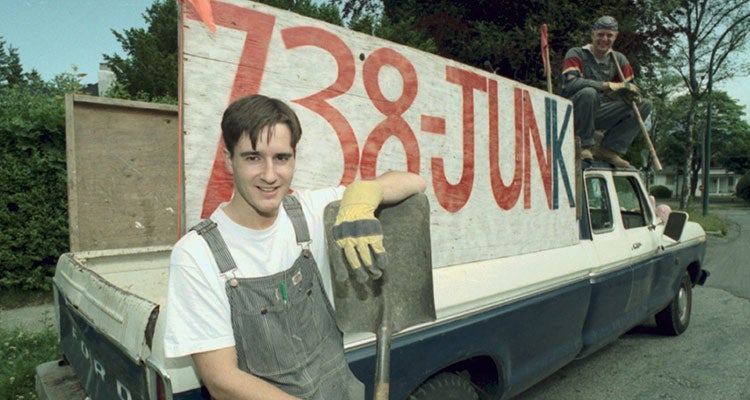 A brief history of junk removal
Humans have produced waste for as long as they've been around, but it was the 18th century that really helped position junk removal to be where it is today. To solve their crisis of trash in the street, London sent out garbage collectors to convert the waste to ash for brick-making purposes. These practices continued until health concerns began to arise.
During the 19th century, a string of deadly cholera outbreaks linked to foul-smelling air led to the Nuisance Removal and Disease Prevention Act of 1846 and the Public Health Act of 1875. Both of these brought with them regulations to the waste management system. 
In the 20th century, motorized garbage trucks were introduced, and environmental policies became the focal point of the industry. After battling for decades, the concerns of environmentalists were heard, with the creation of the Solid Waste Disposal Act of 1965. This act further solidified the strategic development of waste management services and set the foundation for where it stands today.
Important historical moments in junk removal
Our current waste management landscape shows both promise and impending risks. We have a system that handles waste more efficiently than ever before, but we are running out space in our landfills to put it. To see what we are dealing with today, it's important to look at the defining moments in junk removal history. 
18th Century London
The middle of the century marked a period in time where the high population density created a tremendous waste problem in the streets. Instead of focusing on issues surrounding cleanliness, waste management services saw the trash as a profit to be turned, burning the trash to ash for bricklayers to use. This was the first public waste management strategy.
19th Century
Sir Edwin Chadwick, an English lawyer and social reformer, pushed for better sanitation and health regulations within the industry. In 1838, he convinced the Poor Law Board to investigate a serious outbreak of typhus. This was the first time a doctor was used to contribute to the conversation of health and sanitation. 
Eventually, his findings would spur the Nuisance Removal and Disease Prevention Act of 1846 – the first instance of the British government acknowledging the health of its citizens.
20th Century
This century marks the era of policy and deeper strategic developments. We can attribute most of our current waste management and junk removal practices to the Solid Waste Disposal Act of 1965, the Clean Air Act, and the Clean Water Act. These three acts created jobs designated to manage the entire waste management process and ensure all citizens lived under quality conditions. 
As a result of these three historical moments, a gap was created that the garbage collectors couldn't fill. They lacked the resources to help remove junk items from homes, so it would get thrown away with the other trash. We have since learned from our mistakes. 
Near the end of the 20th Century, Brian Scuadamore, CEO and Founder of 1-800-GOT-JUNK?, saw this gap and found a way to fill it. He professionalized the junk removal industry with clean, shiny trucks and friendly, uniformed drivers. Today, people count on junk removal companies, such as 1-800-GOT-JUNK?, to declutter their space while directing reusable items back into the economy.
How junk removal helps the environment
As an industry that brings the idea of clean to the reality of trash, junk removal does more than help to clear space in your home. By strategically partnering with landfills, recycling centers, and donation locations junk hauling companies are able to play a vital role in preserving our planet's resources for future generations. We understand that every piece of junk that evades the landfill adds to a healthier, more sustainable planet – and we plan to do our part.
Image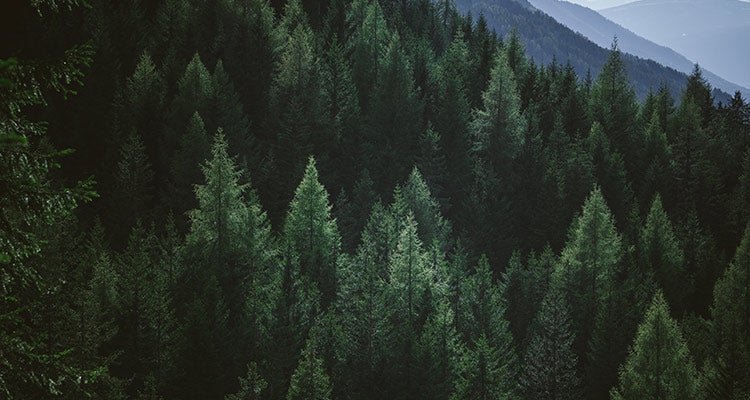 What is a landfill?
When your garbage collector picks up your trash, they end up taking it to a place called a landfill. The Environmental Protection Agency (EPA) defines a landfill as a "discrete area of land or an excavation that receives waste." 
These disposal areas can store various materials. Examples of different landfills include municipal solid waste (MSW), hazardous waste, and nonhazardous waste such as coal combustion residual or demolition waste. 
In theory, our landfills are a great solution for our trash problem. In reality, it's only a temporary band-aid that has its own problems. 
How do landfills work?
Landfills are a storage space for trash that we can't reuse with our current technology. They are meant to be a temporary solution, until future innovations are able to confront the problems caused by them. 
The time has come for us to worry about these problems, and we don't have the innovations to deal with them.
We are almost at the point where the U.S. is out of space to store trash. It only makes sense when you put in perspective that while Americans only represent 4% of the world's population, they generate 30% of the world's garbage. 
How many landfills are there in the United States?
In the U.S., there are 3,091 active landfills and over 10,000 old municipal landfills. This does not include any undocumented private, commercial, or abandoned dumps that have been used over the years. Landfills are filling up at such a pace, that according to the Solid Waste Environmental Excellence Protocol (SWEEP), we will run out of landfill space in the U.S. by 2036. 
How are landfills created?
In the past, we threw trash in a pile and called it a dumping ground. This caused chemicals to seep into the earth or pollute the air. 
Nowadays, we use advanced engineering to manage the byproducts of our dumps. These sanitary landfills are built in four layers before being landfill capped, explained below. 
The liner system
Prevents liquids from penetrating it and seeping into the groundwater. 
The drainage system
Filters liquids like leachate to treatment facilities or onsite wastewater treatment plants. 
The gas collection system
Uses gas extraction wells to capture methane and convert it to usable forms of energy. 
The trash
Delivered to the site and then compacted to minimize the space it occupies in the landfill.
Landfill capping
Once a landfill has been filled completely, it is capped with two feet of soil. Then, vegetation is planted and the land monitored for 30 years. 
While landfills are expertly designed, they can still run into many problems. Chemicals can leach into the groundwater and gases are constantly fuming in the air. This underpins the fact that trash is sitting below some of our parks and recreational areas. 
These are the reasons why junk removers are so important to the health of our planet. Every piece of trash that ends up in the landfill, instead of being recycled or donated, adds to the currently never-ending waste problem that we see today. Get in touch with our professionals to do your part in keeping Earth livable for future generations.
What gases do landfills produce?
Landfills are not meant to stand the test of time, but simply store things we don't want. The biggest problem they face? Decomposing trash mixing with other trash. 
For liquids that leak, we have the Liner and Drainage system, but gases can be a little trickier. While we have systems in place to capture and convert gases into energy, they aren't perfect. Gas is much more difficult to manage than a liquid or solid, especially when the gas is invisible to the naked eye. 
This gas, known as landfill gas, can travel through soil and sit in nearby buildings. It is highly flammable, and people exposed to it can experience difficulties breathing. This gas is 90-98% methane and carbon dioxide with the other 2-10% being various other gases like ammonia and nitrogen. 
While we have systems in place to manage the gases created in landfills, our oceans are currently facing an even bigger trash problem.
How sustainable junk removal helps prevent ocean trash and space junk
While the landfill problems seem bad, running out of space in our landfills isn't our most pressing concern. Our oceans are overflowing with litter — debris is slowly building up around our Earth's orbit. Similar to our landfill issues, we have to wait for the right technology in order to start cleaning it up. 
Image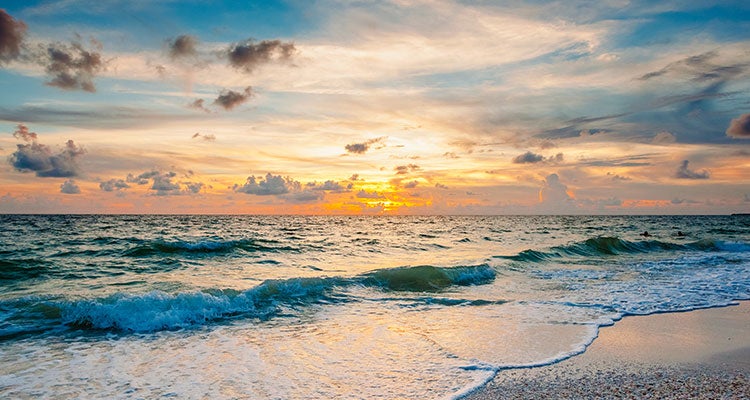 Trash in the ocean facts
Our oceans are home to diverse wildlife, but that may not be true for long if we don't remove junk properly. If we want to preserve our oceans, we must quickly change our waste management habits. Here are some facts about the ocean that may change the way you look at recycling:
Ocean pollution kills more than 1,000,000 sea birds each year
Discarded fishing nets kill nearly 300,000 dolphins and porpoises each year
Waste thrown into the ocean washes up on shore, polluting everything including beaches and sea life
There is a patch of garbage floating in the ocean called the Great Pacific Garbage Patch that is 3 times the size of France 
Once every minute, enough plastic to fill a garbage truck is dumped into our oceans
How long does ocean trash live?
From waterways collecting litter after rain storms to illegal dumping, 80% of the the trash in the ocean comes from land. The problem is that ocean trash lives just as long as landfill trash, if not longer, with some materials taking almost 500 years to decompose. 
Most plastics take a minimum of 20 years to decompose. With 165 million tons of plastic debris floating around in our oceans, we have a tremendous undertaking ahead of us.
What is space junk?
Though not immediately apparent, many of the junk removal habits that affect our oceans and our environments will likely seep into the rest of the Earth. Space junk is a result of man-made debris that orbits Earth. Though people may typically think of the abandoned rocket bodies, common types of space junk can be found here on Earth too: think dead batteries, excess motor fuel, and paint flecks.
Though we do properly dispose many types of electronics, junk removal companies don't haul this type of junk away quite yet; so it's important to discuss, as it poses similar problems as the Great Pacific Garbage Patch (GPGP). Many of the principles that the junk removal industry prioritizes needs to support the growing initiatives in space. 
While the GPGP prevents the sun from reaching the depths of the sea, the space trash wall we are building will prevent the sun from reaching us. It will also pose difficulties for space exploration for future generations. 
Cleaning up space and ocean trash
While we don't clean space and ocean junk specifically, we can help promote awareness. Hundreds of years ago we started refining the way we managed waste, but today we are facing the consequences of our past. 
Our oceans are in desperate need of help. Captain Charles Moore, who discovered the GPGP, once said that the cleanup effort "would bankrupt any country and kill wildlife in the nets as it went." 
We have a long road ahead of us, but we can leverage learnings on land to both our waters and space. While we address the enormous garbage pile in the ocean, let's make sure we don't create another one, in space.
How junk removal supports recycling
Junk haulers are expert recyclers. They know exactly where to take all of your materials so they end up in the right place – they will even donate goods if they are in good quality. This is especially important if you don't know how to recycle junk properly or don't have time to call around to see who is accepting goods for donation.
Image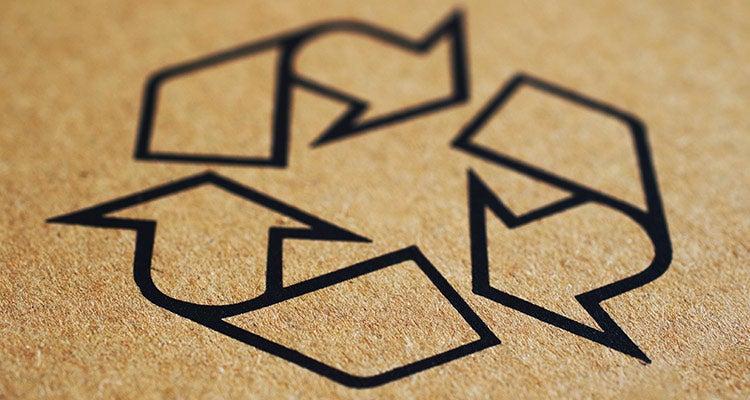 Good recycling practices are on the rise in the U.S., despite a recycling rate of just 34.6%. Let's continue to raise this rate by building better recycling habits as we clean our beloved planet.
What is recycling? 
Recycling is defined as the process of collecting, processing, and converting waste materials into reusable material for new products. It benefits everyone by providing jobs, helping to maintain the environment, and reducing our carbon footprint. Recycling occurs in three steps:
Collecting and Processing
Recycling centers and services offer different programs for different cities. Some have a curbside program, while others have to drive their goods to a processing center. The recyclable material is then cleaned, packaged, and sent to be converted into a new product.
Manufacturing
After receiving the clean and organized package, a manufacturer will work to convert this raw junk into a marketable material. 
Production
The marketable material is then converted into a usable product that consumers purchase (and hopefully recycle when they are finished with it).
When you break it down, junk removal and recycling go hand-in-hand. Both have the same goal: to keep reusable materials from ending up in the landfill. 
What are the benefits of recycling?
Recycling is one of the best things we can do as individuals to improve the planet. It provides benefits to the environment, businesses, and consumers, because trash affects everyone.
The recycling industry does a great job of prolonging the life of material goods, but it also does a great job of employing hard-working individuals who care. 
Next time you go to throw your trash away, consider these benefits of recycling:
Minimizes waste sent to landfills
Prevents pollution caused by collecting raw materials
Conserves natural resources
Promotes the domestic economy by reusing material goods
Creates hundreds of thousands of jobs
What can you recycle?
When you take into consideration the benefits of recycling, it makes you wonder why Americans only recycle 34.6% of the time. While bad habits account for some of the people, a majority simply choose to throw away items rather than recycle because they are unfamiliar with recycle codes. After all, each town has different rules. 
Recycling codes are categories for materials that have similar traits, like plastic water bottles and vegetable oil containers. Code Number 1 and Number 2 can be recycled, which are plastic bottles and milk bottles, while Number 4-7 require contacting your local recycling center. These code numbers have to be stored in different landfills than ordinary ones or require different recycling methods.
Below is a list that explains the recycling codes, examples for each code number, and whether or not the material is recyclable or reusable. For more information, check out this handy one page guide.
Recycling codes meaning and explanation
Number 1 - PET (Polyethylene Terephthalate)
Found in soft drink bottles, water bottles, and vegetable containers.
Recyclable? Yes. Reusable? No.
Number 2 - HDPE (High-Density Polyethylene)
Found in laundry detergent bottles, shampoo bottles, and milk bottles.
Recyclable? Yes. Reusable? Yes.
Number 3 - PVC (Polyvinyl Chloride)
Found in plastic sheathing for cords and cables, plastic pipes, and plastic packaging.
Recyclable? No. Reusable? No.
Number 4 - LDPE (Low-Density Polyethylene)
Found in plastic grocery bags, squeezable bottles, and dry cleaning bags.
Recyclable? Yes, but call your landfill to be certain. Reusable? Yes.
Number 5 - PP (Polypropylene)
Used to contain hot liquids and is molded for car parts.
Recyclable? Yes, but call your landfill to be certain. Reusable? Yes.
Number 6 - PS  (Polystyrene)
Found in license plate frames, foam packaging, and plates and cups.
Recyclable? Call your landfill. Reusable? If food has contaminated it, no. If it's packaging, yes.
Number 7 - Other
Found in acrylic, nylon, and fiberglass.
Recyclable? Call your landfill. Reusable? Call your landfill.
Common items that you cannot recycle: loose plastic bags, polystyrene foam products, soiled food items, or plastic utensils.
Is Styrofoam recyclable?
Styrofoam is a Number 6 plastic that rarely gets recycled. In fact, New York City has banned single-use foam products to help combat the more than 12,000 tons of trash they create each day. 
There are companies who are trying to make use of the waste created by Styrofoam and similar products, so be sure to look online to learn the rules.
What 1-800-GOT-JUNK? recycles
Everyone should recycle, but what if the items are bulky, heavy, or dangerous to handle? This is where a professional junk removal service comes in. 
At 1-800-GOT-JUNK? we understand the importance of recycling and work hard to recycle as many materials as possible. From biomass like yard trimmings to tires and rubber products, we will help clean your home and keep earth a sustainable place to live. 
Here is a brief list of other materials we recycle:
Appliances
Glass
Metals (ferrous and non-ferrous)
Construction debris
E-waste
For more information, read about junk we recycle.
What is e-waste? How do I sustainably dispose of it?
While the name is informal, e-waste is a popular name for electronic products that have reached the end of their use. These are products like TVs, computers, monitors, VCRs, and copiers. Electronic recycling brings its own challenges since the components inside these electronics render them hazardous. 
When it comes to e-waste recycling, you will need to research a recycling center that accepts it, then drive it there yourself. The easiest way to dispose of e-waste is to call your local junk removal experts – they are professionals who know exactly where to take your junk so it's disposed of it in the safest manner.
In conclusion
When you put it in perspective, the junk removal industry is vital to the sustainability of our planet. By assisting in the effort to reuse and recycle materials, our landfills and oceans have less piece of trash to deal with. If you need help removing junk from your home, book an appointment with one of our professionals. 
We make junk disappear.
Image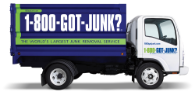 No obligation, in person quotes.
Quick and easy onsite payment.
No hidden fees.
Responsible disposal.