Large Items & Furniture Removal
With approximately 1300 national accounts and even more local commercial clients, managing the junk removal needs of businesses is a huge part of 1-800-GOT-JUNK?. Whether you have small debris like cardboard or large items like office cabinets and chairs, we can haul it all! Whenever possible, we recycle the recyclables and donate the donate-ables.
Our friendly, uniformed truck teams make it easy! All you have to do is point to your unwanted items and they'll make them disappear. They will even sweep up the area afterward. With our 15 cubic yard 1-800-GOT-JUNK? trucks, we can fit 8 full-sized fridges, so nothing is too big for our trucks! Depending on your business' needs, we can schedule a one-time pickup or ongoing services.
1-800-GOT-JUNK? can help you with:
Storage unit cleanouts
Construction materials
Office cleanouts
Rental unit cleanouts
Real estate junk removal and property cleanup
Restoration and renovation debris removal
We have over 155 franchise locations across Canada, the USA, and Australia, so we're always in your neighborhood. With our all-inclusive service, up-front prices and convenient scheduling, you don't have to worry about a thing. Most of our jobs are completed within 24 hours of arrival, making us your one-stop solution so you can complete your cleanout faster and hassle-free.
Getting your business account started is easy! Just book online or call 1-800-GOT-JUNK? Today.
If you're interested in working with our National Accounts Team, email nasa@1800gotjunk.com or call 1-866-916-5865. 
While we can certainly do one-off junk removal services for businesses, we also offer:
Servicing at multiple locations on local, regional, and national levels
Whether you're a small business with a single location, or a national chain with multiple locations, we can create a custom junk removal solution that works for you. We can coordinate pickups at multiple locations on a local, regional, and national level. Rather than work with dozens of regional or local companies, let 1-800-GOT-JUNK? handle the jobs across all your locations.
Professional, uniformed, and fully bonded & insured workers
You'll want to know that your junk removal service is licensed, and insured. You'll also want to ensure that they have the ability to arrive within a tightly scheduled time window and to be available when you need them, including off-hours and weekends. We know it's important to have a professional service you can trust, which is exactly what you'll get with 1-800-GOT-JUNK?.
Same-day and off-hours service including weekends
Occasionally, there's an unplanned need for junk removal. With our 24/7 customer service center, we can often be there the same day or the next morning to get you back to normal operations. We also provide full service labor and can provide multiple trucks if needed.
Environmentally responsible disposal
Wherever possible, we attempt to divert items away from the landfill.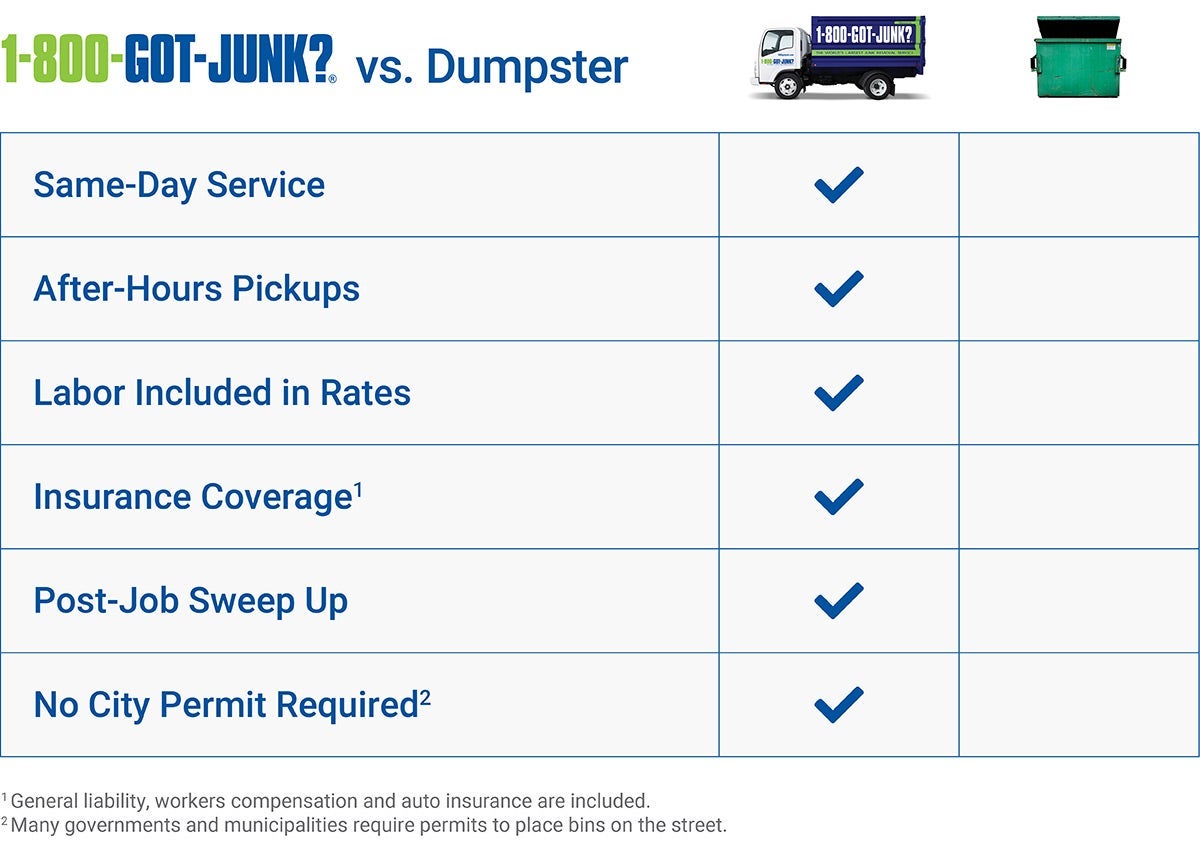 Simply put, we make junk removal easy for all types and sizes of businesses.