40 genius home storage ideas
Image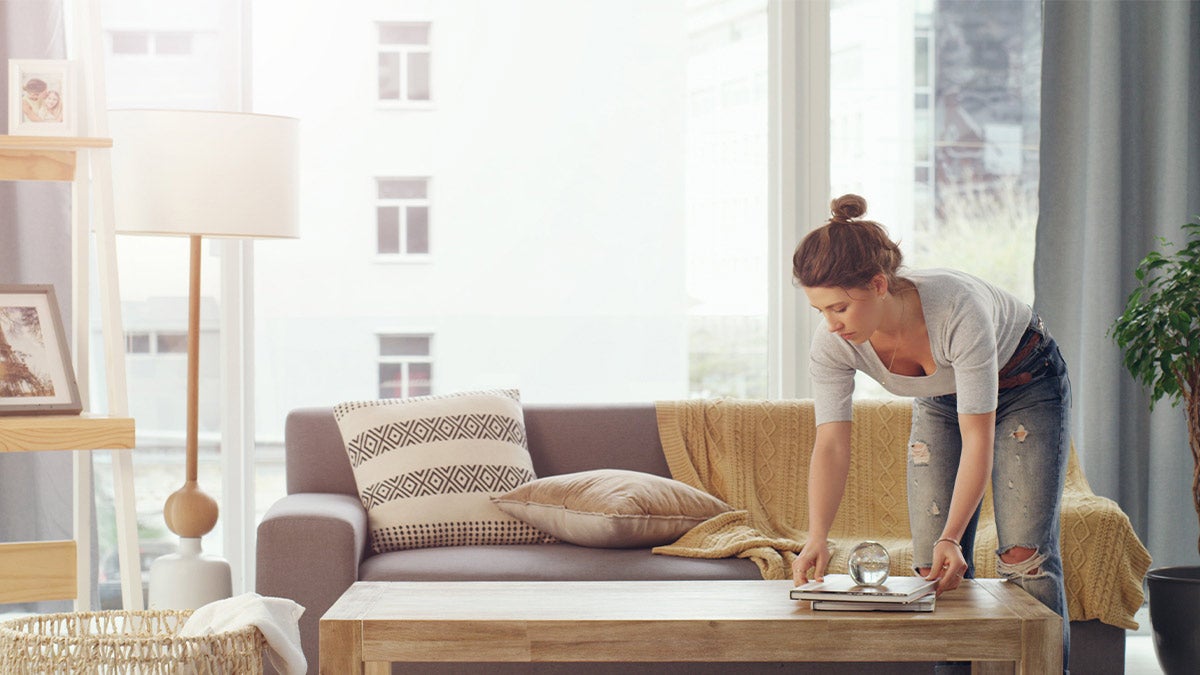 After you've cleared out your unwanted items, the last thing you want is for clutter to creep back in. Part of keeping your home clutter-free is having the right storage solutions in place. Even if you don't have a lot of space, there are many home storage solutions that you can easily implement. Keep reading for 40 home storage solutions to organize your attic, kitchen, bathroom, living room, and garage!
Home storage ideas based on room
Kitchen storage ideas
Your kitchen is the heart of your home, but don't let the stress of keeping it organized get to you. Take inspiration from the following kitchen storage ideas to make staying organized as easy as one-two-three!
Use wire shelf risers to your advantage. Put them in cupboards to double the storage space!

Store pans sideways in a metal rack to get the most of small spaces.

If you have open shelving, group your dishes by color. Such a small step can make a huge impact on how organized your kitchen looks and feels.

While knife blocks are a great option, they can take up a lot of valuable counter space. Instead, consider storing knives and other utensils on a magnetic strip on the backsplash. 

Install a pull out cutting board from your counter to give yourself the gift of extra prep space. 

Use the space above your stove to store large pots or hang frequently used pans and utensils. 

Install a perimeter shelf just below the ceiling to store all those big kitchen appliances and serving platters that don't get used daily. 
If you're still lacking space in your kitchen, consider if there are some items that you rarely or never use that are simply taking up room. 1-800-GOT-JUNK? is happy to help clear out your unused items!
Image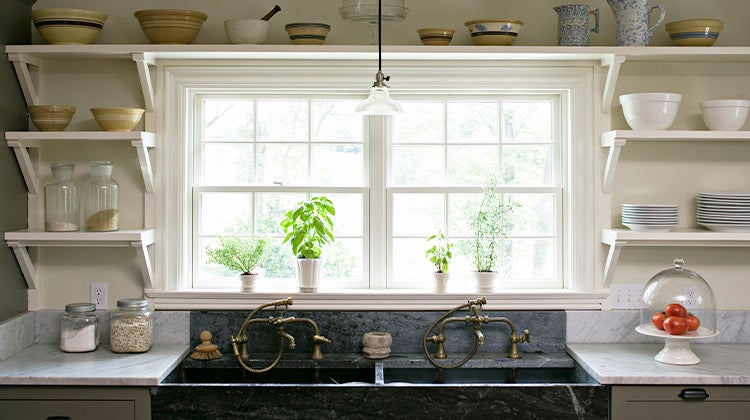 Bathroom storage ideas
If your toiletries are overtaking your bathroom countertops, it's time to come up with a better system. Follow these 12 bathroom storage hacks to optimize your space!
Install a medicine cabinet or a built-in to store toiletries.

Add a small ledge to the bottom of your mirror to free up counter space. 

Install wall storage that can hold toiletries. Bonus - some storage cabinets have towel racks on the bottom!

If you're really short on floor or counter space, use over-the-door hanging storage.

Repurpose your bar cart into a toiletry and towel cart.

Put small drawers or baskets under your sink to keep little trinkets in order.

Keep your bathroom cleaning supplies on a lazy Susan so you can easily access them without tipping over other items.  

Use baskets to store folded towels so they can be neatly stored under the sink, in a nearby closet, or on the floor.

If you have a pedestal sink, consider putting a sink skirt around the bottom edge of the sink. This will enable you to store items without visually cluttering the space. 

Guilty of having tangled cords everywhere? Store hair appliances like blow-dryers and curlers in a basket on the back of a cabinet door.

Install magnetic strips on the inside of drawers to store bobby pins, nail clippers, tweezers and other small items that always seem to go missing in action.

If floor space is sparse, swap out a stand-up toilet paper holder for a basket on the back of the toilet. 
For more bathroom hacks, check out our four bathroom organization ideas to help you get the bathroom of your dreams.
Image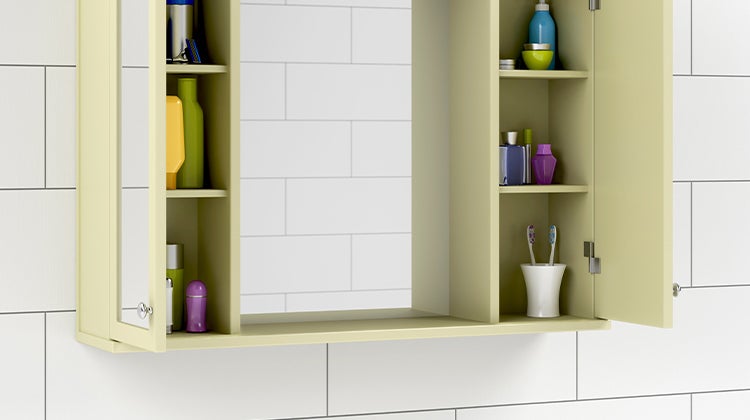 Living room storage ideas
If your living room isn't living up to its full potential, consider stepping up your storage game! Follow these nine living room storage tips to get the most out of your space.
Take advantage of the vertical space and get an open shelving unit to store books, games, or knick knacks.

Install floating shelves or box shelves to maximize your wall space.

Get a console table to place behind your couch.

Use double-duty furniture! Get a coffee table that has drawers, two tiers, or a lift top with hidden storage space underneath. These options provide more storage value than just a flat surface.

Get a couple of storage ottomans to keep blankets, pillows, or toys. They also double as additional seating or even a makeshift coffee table.

Use baskets to store small items. Not only are they functional, but they also look much nicer than a plastic container.

Invest in an entertainment center! This will create a centralized location for all entertainment related tech.

Invest in built-ins around doorways or fireplaces to provide storage that is seamlessly integrated.

Keep a remote tray or box on your coffee table. This way your remotes have a home and won't get lost in the couch cushions!
When choosing to invest in more useful and functional furniture, don't forget to properly dispose of your old items. 1-800-GOT-JUNK? can handle all the hassle of removing your items, so you can enjoy your newly organized space sooner.
Image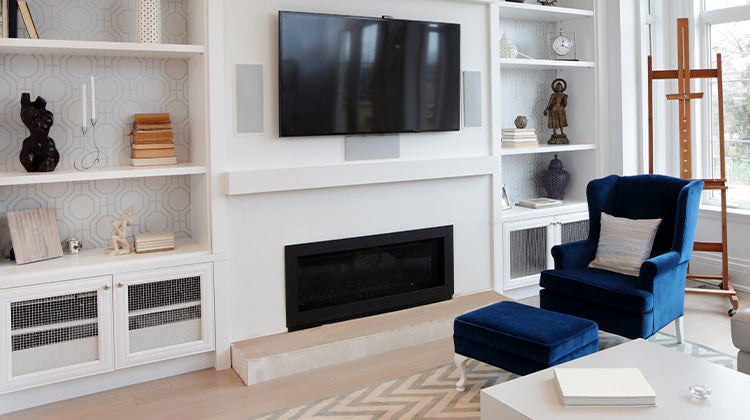 Garage storage ideas
Your garage can either give you the gift of storage space or it can be the source of a headache. Avoid the latter and follow these helpful garage storage ideas to get your garage in tip-top shape!
Give everything a designated space by grouping like items together or by category, such as garden supplies, tools, and automotive parts.

Take advantage of the vertical space and use a peg board with a variety of hooks and baskets, to store anything from tools to spray paint. 

Hook bikes to the walls so they don't take up valuable floor space.

Use magnetic strips on the edge of shelves to hold miscellaneous metal objects like drill bits, nails, and pliers.

Utilize the ceiling to hold large bulky items like kayaks, bikes, or ski equipment.

If your garage doubles as a mud room, install a cubby for each family member. 
For even more tips on how to keep your garage free from clutter, check out our garage organization ideas.
Image
Attic storage ideas
Depending on the size of your attic, there are many different ways you can maximize the space. If your attic has drywall up and can function as additional living space, consider turning it into a reading area where you store all your books, a walk-in closet, a spare bedroom, or a children's play area. 
If your attic is not a livable space, follow these attic storage solutions that will let you make the most of your attic no matter its condition. 
Use clear boxes so you can see what is inside.

Label everything! That way even if a storage container is not clear you still know its contents. Even if you use clear containers, labeling can be extremely helpful with identifying boxes quickly.

If you have a slanted roof, install a clothing rod near the bottom as a way to hang all of those puffy winter coats. Bonus - this will open up some extra space in your main closet!

Install tiered shelving around the perimeter of your attic so you can double stack containers. This also leaves the middle area of your attic available for larger items that can't fit in boxes.

Organize your items by seasonality, so when the holidays arrive you don't need to spend hours searching for that missing box of ornaments.
What is unsafe to store in the attic
Keep in mind that the temperature change in attics can be drastic so you need to be selective with what you store there. As a general rule of thumb, for attics that are not insulated and climate controlled, avoid storing items that could be damaged by extreme heat or cold. Some items that should never be stored in the attic are:
Chemicals or cleaning supplies. Exposing flammable items to the high temperatures of an attic could cause them to explode and create a fire.

Craft supplies. With the high heat, items like crayons and pastels can melt, while glue and markers can dry up.

Cardboard boxes. If your attic has any moisture it could cause cardboard to mold, no longer protecting the items inside. Cardboard can also attract pests as they use the material to nest.

Candles. With excess heat trapped in the attic, there's a high likelihood that candle  wax could melt and distort a candle's shape.

Antiques. Vintage items can be fragile and may not be able to withstand fluctuating temperatures. Treat them with care, as it's not worth the risk to store them in an attic.

Photos. The high heat of an attic could damage printed photos and ruin the quality of the negatives.
What is safe to store in the attic
When deciding what to store in your attic, consider durability. The following items are safe to be stored in your attic.
Holiday decorations or any other durable seasonal items to which you don't need regular access.

Suitcases or luggage are generally very durable and won't be impacted by the varying temperatures.

Sports equipment is designed to take some wear and tear, so it can handle the high heat.

Clothing can be put in the attic as long as it is stored in a plastic airtight container.

Metal or ceramic is made to withstand high heats so it is perfectly safe to store in an attic.
Image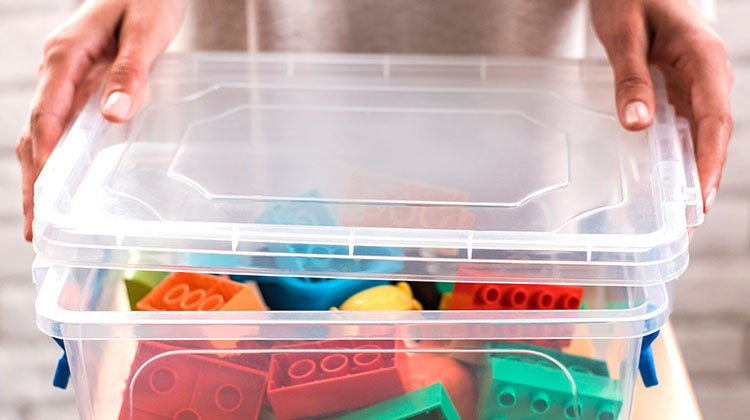 If you've implemented all of these storage solutions but you're still struggling to keep items in their place, it might be time to declutter. To get you started on the right track, check out our decluttering guide and these easy home organization ideas. If you realize you need to get rid of some items before you can organize, call 1-800-GOT-JUNK?, we're here to help with our full service junk removal. All you have to do is point!
Are you ready to purge and get rid of the items disrupting your storage system?
We make junk disappear.
Image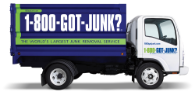 No obligation, in person quotes.
Quick and easy onsite payment.
No hidden fees.
Responsible disposal.