Dumpster rental vs. junk removal company comparison guide
Image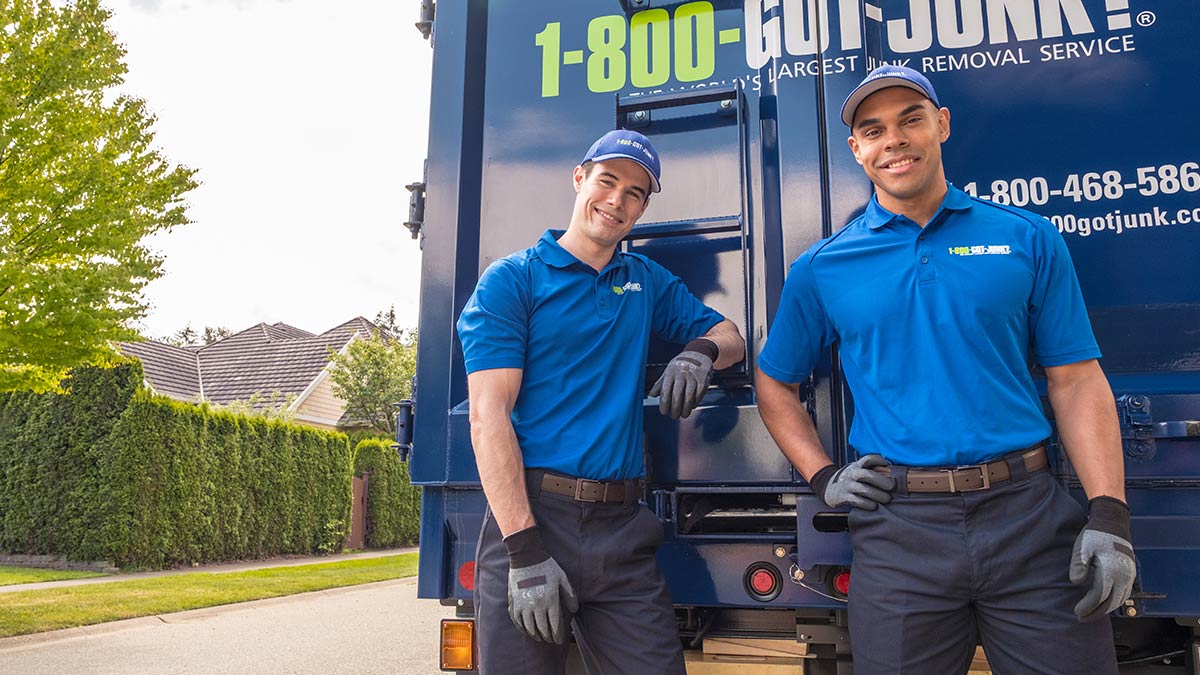 When you have unwanted junk that needs to disappear, it can be difficult deciding what to do with it. The most common options are to rent a dumpster or hire a professional junk removal company, like 1-800-GOT-JUNK?. From cost to convenience, this guide will cover everything you need to know in order to make an educated decision on which junk removal method is best for you!
Types of dumpsters and dumpster rental cost
Not only are there differences between dumpster rentals and junk removal services, but there are differences in the dumpsters themselves! Depending on the amount of junk you have, the size and material of the dumpster will differ, which will affect the price.
1. Roll off dumpster 
Roll off dumpsters are delivered by a truck with a specialized lift system and are dropped off at your property for a scheduled amount of time, usually one to two weeks. Roll off dumpster rentals are a great option when you have a large quantity of materials. They are best suited for temporary jobs such as home improvement projects, events, or demolitions. They come in various sizes, from 10 yards to 40 yards. They can hold the bulky items that you can't put out on the curb, such as appliances, electronics, furniture, bricks, and drywall. 
2. Front load dumpster
A front load dumpster is similar to a roll off dumpster. In fact they both come in varying sizes and accept similar materials. However, a front load dumpster is a more permanent option, and is ideal for commercial use by facilities like restaurants, offices, schools and apartments. Front load dumpster rentals usually offer pickup once a week, bi-weekly, or monthly. The price of a front load dumpster is based on the frequency of the pickup, along with the dumpster's size, location, and add-ons. 
3. Dumpster bag
Waste Management's dumpster bag, also known as Bagster, is perfect for smaller jobs that don't need the space of a full sized dumpster. These bags are 8 feet wide, 2.5 feet high, and 4 feet deep, so they are also a great option if you don't have a lot of space in your driveway. Even though the bags are small, they are mighty. They can carry up to 1.5 tonnes! To use a Bagster, you purchase the bag from a retailer, take however long you need to fill it up, then book a pickup appointment. 
A dumpster bag is a great option for smaller jobs as the price is lower than a traditional dumpster. A Waste Management dumpster bag costs around $30 USD, but keep in mind that you still need to pay to have the bag picked up. Unlike traditional full sized dumpsters, Bagster does not have any deadlines or overage fees. Unfortunately, large items like appliances and electronics are not accepted. You can also only include small quantities of heavy items like brick and concrete. 
6 differences between dumpsters and junk removal
1. Convenience
If convenience was the only deciding factor, junk removal companies would win hands down! Some companies, such as 1-800-GOT-JUNK?, offer full service junk removal. They come to your home or commercial space during a scheduled appointment window, remove your junk, and clean up any debris that may have been left behind. All you have to do is point!
In contrast, with dumpster rentals you have to do all the heavy lifting yourself. Not only is it hard work, but you also end up spending your free time doing an undesirable task.
2. Cost
The price of dumpsters can range from $90 to $840 USD for three to four days. Keep in mind this price may include hidden fees such as permits, overage charges, or dump fees. 
Unlike some dumpster rentals, permits are not required with 1-800-GOT-JUNK? and you do not get charged based on time. 1-800-GOT-JUNK? prices their service based on the amount of space your junk takes up in a truck. We also do single item pricing on certain common items like mattresses. If you're interested in a quote, call 1-800-GOT-JUNK?. We're happy to help!
3. Safety
With dumpster rentals, since you are doing all the heavy lifting, there is a greater risk of injury. Even if you are capable of lifting a heavy item, it still can be a hazard to move it by yourself. 
At 1-800-GOT-JUNK? our Truck Team Members never work alone and they have the equipment needed to transport large items with ease. Our teams are insured and have had proper training, so safety should never be a concern.
4. Type of accepted items 
Even if you are able to lift big and heavy items, some dumpster rental companies won't accept them. Many dumpster rentals do not allow tires or items with freon, such as fridges and freezers. Oftentimes different categories of items need to be placed in different dumpsters. For example, you can't place yard trimmings in with construction materials, so you would need to rent two different dumpsters. If you are interested in renting a dumpster, confirm with the company if you can include a variety of items or not.
1-800-GOT-JUNK? does not have the same restrictions as a dumpster rental. 1-800-GOT-JUNK? takes almost everything you can imagine. From yard trimmings to drywall, no matter how big or weird we can haul it all. Our Truck Team Members can even remove large bulky items like hot tubs! 
5. Environmental impact
Unfortunately, with dumpster rentals all the items are sent to the dump. If you have recyclable materials, you would need to sort them out beforehand and find a different removal method for them. However, at 1-800-GOT-JUNK? we can sort items for you! We pride ourselves on diverting items from the landfill by recycling the recyclables and donating the donate-ables.
Image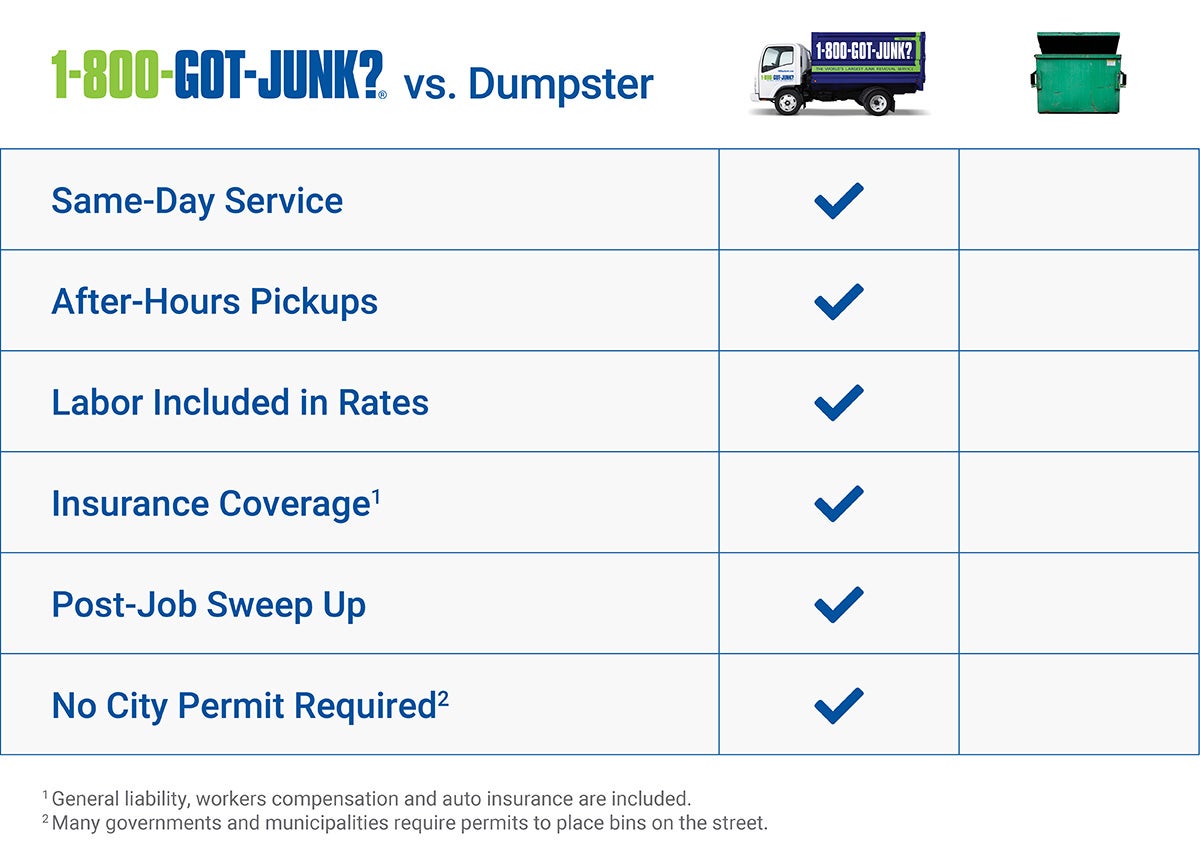 If you want more information about 1-800-GOT-JUNK?, check out these frequently asked questions about our service or read the ten reasons why you should use a junk removal company!
Are you ready to swap that inconvenient dumpster for 1-800-GOT-JUNK?'s service?
We make junk disappear.
Image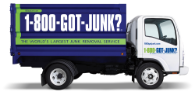 No obligation, in person quotes.
Quick and easy onsite payment.
No hidden fees.
Responsible disposal.