The top junk removal items we took in 2021
Image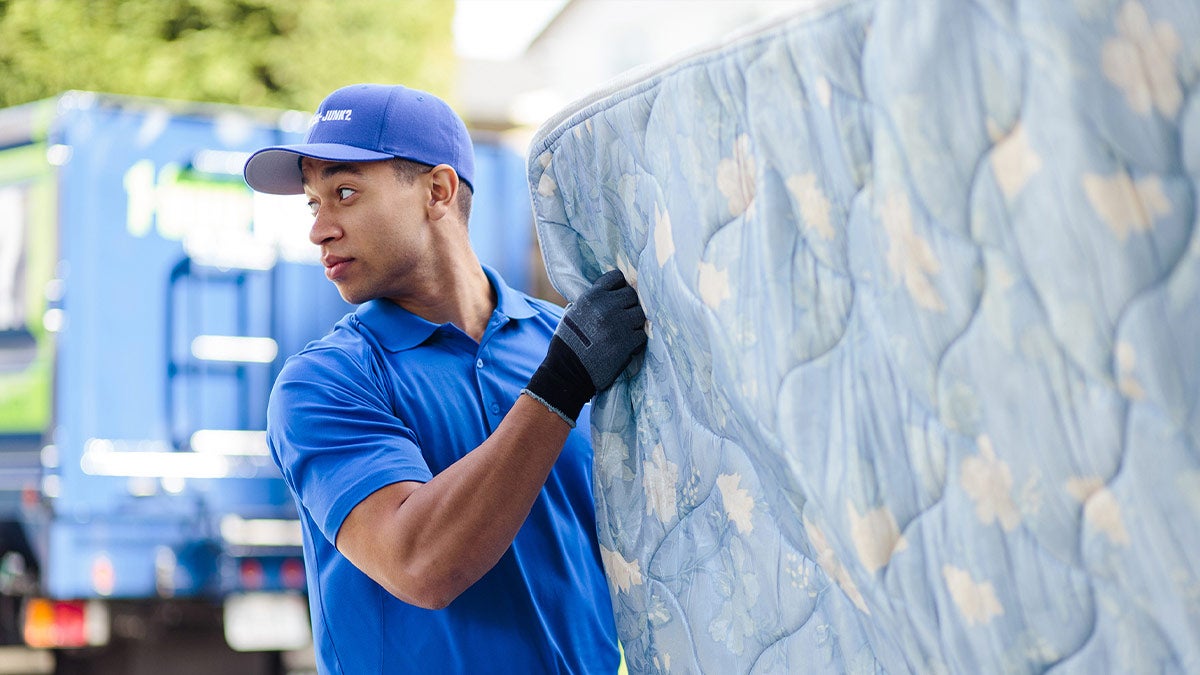 1-800-GOT-JUNK? has hauled an enormous amount of junk this year, and it's safe to say that our teams understood the assignment. Whether it's making over 34,000 couches disappear or working with various charities across the United States, Canada, and Australia, our teams have continued to commit to bringing relief to people through junk removal and helping our communities. For every truckload, we work to donate the donatables and recycle the recyclables, as a way to give back and divert as much as possible from the landfill. 
To celebrate the year, we're doing a round-up of some of the most common items we've taken, proving no item is too big for our teams to handle!
The 10 most common junk items removed in 2021
1. Mattresses 
In 2021 alone, we've helped haul away over 47,600 mattresses from North America and Australia! Mattresses can be recycled and even donated occasionally. For more information on how you can properly dispose of your unwanted mattresses, check out our mattress FAQ page.
2. Televisions 
During 2021, 1-800-GOT-JUNK? picked up over 38,100 televisions! Whether your TV is broken or you're simply upgrading, it is important to dispose of TVs properly, as they can contain hazardous materials such as lead and mercury. In fact, many garbage pickup services don't accept televisions due to these potentially dangerous materials. At recycling centers, they will ensure disposal is done safely and that some of the parts are re-used. To read more about how 1-800-GOT-JUNK? can help with TV disposal, check out our TV removal FAQ page.
3. Sofas 
After a couple years of enjoying your sofa more than usual, it may be time to consider investing in a new one! Whether you have an unwanted sofa, sectional, or futon, we can take it. In 2021, we hauled over 25,600 of them! For more information on sofa removal, check out our furniture removal FAQ page. 
4. Fridges & freezers 
This year we've hauled away 12,521 fridges and freezers, making sure they were donated, recycled, or disposed of properly. A 1-800-GOT-JUNK? truck can fit 8 full sized refrigerators, which equates to over 1,500 truckloads in 2021 full of just fridges and freezers for responsible disposal! To learn more about how 1-800-GOT-JUNK? can help safely remove your old fridge, check out our refrigerator FAQ page.
5. Tires
Tractors, trucks, and cars, oh my! 1-800-GOT-JUNK? can take tires no matter the size, and in 2021 we hauled 9,493 of them! No matter where you live, tires shouldn't go to the dump. If you're looking for an eco-friendly way to dispose of your tires, many recycling facilities will accept them, or 1-800-GOT-JUNK? can save you the hassle and dispose of tires properly for you.
6. Pianos
While pianos are beautiful instruments, they do take up a lot of space and can be extremely heavy if you need to move them. Broken pianos also cannot simply be thrown in the trash, as they are large and often made of materials that do not break down naturally in landfills. This year, 1-800-GOT-JUNK? has removed over 3,500 pianos to give people the gift of space!
When you've decided to part with your piano, consider donating it to a local non profit in your area. If you can't find anyone willing to accept a donation, get in touch with us as we work with many charities and often donate pianos. If you need help getting rid of an old piano, whether through donation or proper disposal, check out our piano FAQ page for more information on how 1-800-GOT-JUNK? can help.
7. Treadmills
Perhaps your treadmill has become more of a coat rack than an exercise machine, or maybe you need to get rid of some old equipment to update your home gym. Either way, make the most of your space by sending that unused treadmill to join the over 2,500 others that 1-800-GOT-JUNK? has hauled away in 2021!
8. Washers & dryers
In 2021, we hauled over 2,100 washers and dryers! Washers and dryers, along with any other appliance containing metal, should be recycled, as producing new metals can be costly and damaging to the environment. For more information on how to dispose of your old washer/dryers, check out our appliance FAQ page.
9. Barbeques
While barbeques are a classic cooking option in the summer, they tend to become quite neglected in the colder months, especially if they are left outside in the rain and snow. If your barbeque has seen better days, just call 1-800-GOT-JUNK? to take it off your hands. We can make your barbeque disappear along with the over 1,800 others we took in 2021! Whether it's in the backyard or on the front porch, our teams will remove your barbeque right from where it's located so you won't have to lift a finger.
10. Hot tubs
Hot tubs can be quite difficult to remove given their weight and size, but with a little help from 1-800-GOT-JUNK? all you have to do is point! This past year, our teams have hauled away over 1,400 hot tubs! For more information on hot tub removal, check out our hot tub removal FAQ page.
Image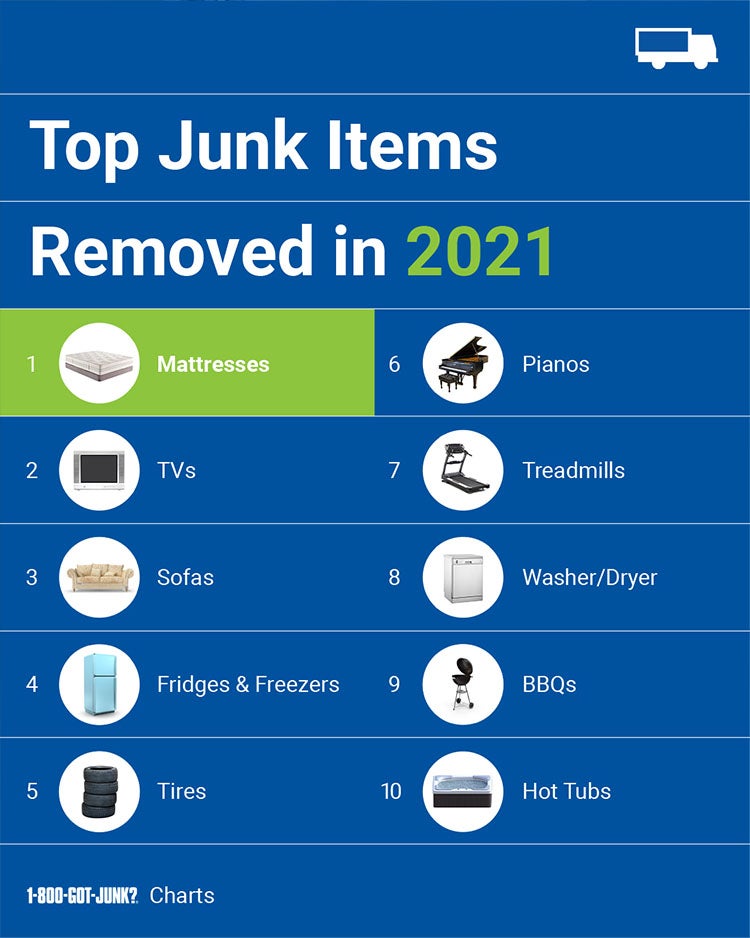 Whether it's recycling or donating, 1-800-GOT-JUNK? strives to divert as many items from the landfill as possible. We donate the donatables and recycle the recyclables, working with various local charities and recycling centers across three countries. We also can't forget to commend the hard work of our uniformed truck teams! Without their dedication, professionalism, and friendly smiles, this large amount of junk removal and donations wouldn't be possible!
If you are unsure if we can pick up your items, or think they might be too weird for us, check out our Weird Junk Top 10 List for a round up of the strangest items we've picked up in 2021! From a truck full of Bud Light boxes, to giant walkie talkies, we've seen it all. No matter how weird, we are happy to help!
If you're ready to get rid of items that have been holding you down this year, give 1-800-GOT-JUNK? a call or...
We make junk disappear.
Image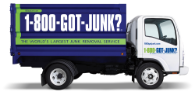 No obligation, in person quotes.
Quick and easy onsite payment.
No hidden fees.
Responsible disposal.