While we can certainly do one-off junk removal services for businesses, we also offer:
Business Account invoicing along with Net 30 payment schedules
Want to create a business account? The first step is to download our Credit Application Form.
You'll find our form to be pretty standard in terms of establishing company, accounting, and billing information and points of contacts, but should you have any questions, give us a call at 1-866-916-5865.
Once you have it filled out, you can securely upload the completed form here.
We will confirm receipt of the form within one (1) business day and contact you to initiate your account within an additional 48 hours.
If you are up against a more urgent timeline, please call us directly at 1-866-916-5865.
Recurrent, bulk-service pricing discounts
If you need service on a weekly, monthly, or quarterly basis, we offer bulk pricing discounts. This gives you better value compared to common alternatives, such as dumpsters or less-professional junk removal services.
Interested? Call our business account team at 1-866-916-5865 to discuss your needs as well as pricing options.
Servicing at multiple locations on local, regional, and national levels
Whether you're a small business with a single location, or a national chain with multiple locations, we can create a custom junk removal solution that works for you. We can coordinate pickups at multiple locations on a local, regional, and national level. Rather than work with dozens of regional or local companies, let 1-800-GOT-JUNK? handle the jobs across all your locations.
Professional, uniformed, and fully bonded & insured workers
You'll want to know that your junk removal service is licensed, bonded, and insured. You'll also want to ensure that they have the ability to arrive within a tightly scheduled time window and to be available when you need them, including off-hours and weekends. We know it's important to have a professional service you can trust, which is exactly what you'll get with 1-800-GOT-JUNK?.
Same-day and off-hours service including weekends
Occasionally, there's an unplanned need for junk removal. With our 24/7 customer service center, we can often be there the same day or the next morning to get you back to normal operations. We also provide full service labor and can provide multiple trucks if needed.
Environmentally responsible disposal
Wherever possible, we attempt to divert items away from the landfill. We take the time to measure the amount of junk collected and report where it ends up. We're working towards meeting a landfill diversion rate of 75%.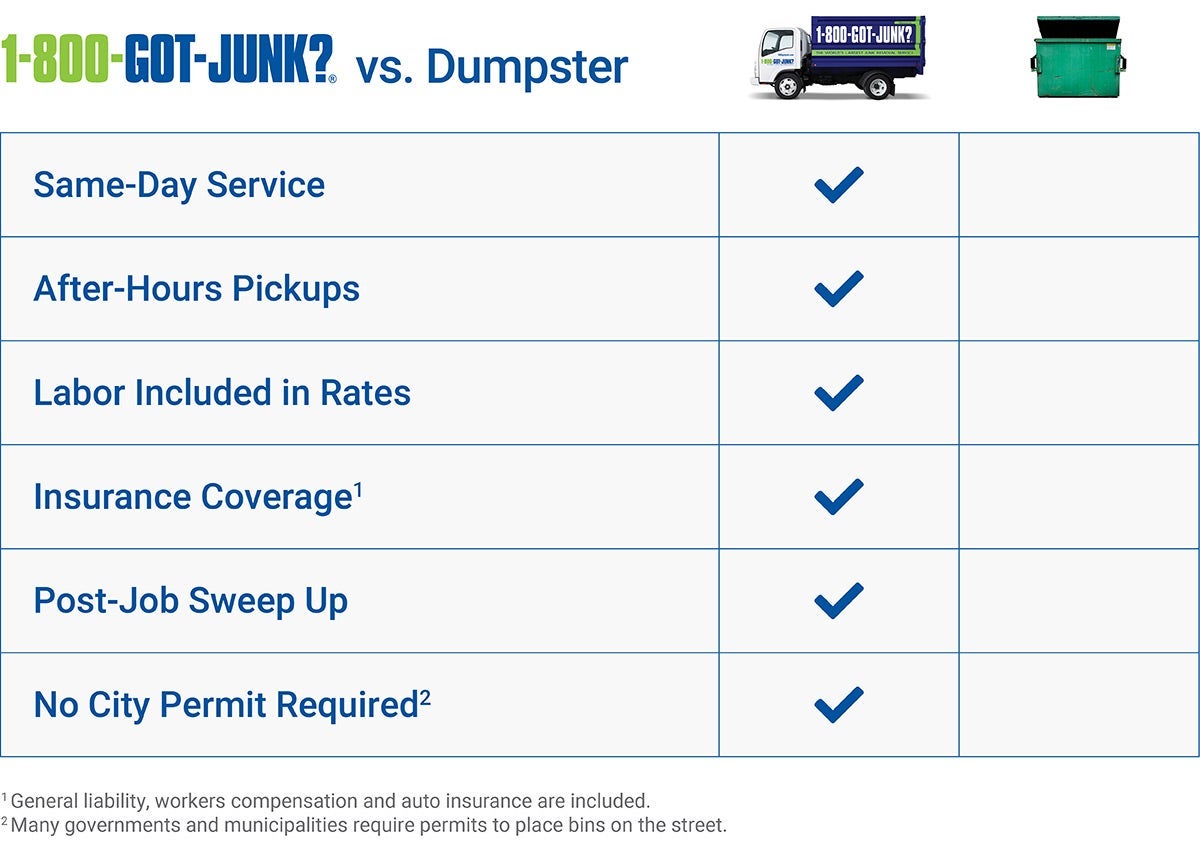 Simply put, we make junk removal easy for all types and sizes of businesses.