Yard clean up tips for outdoor hosting
Image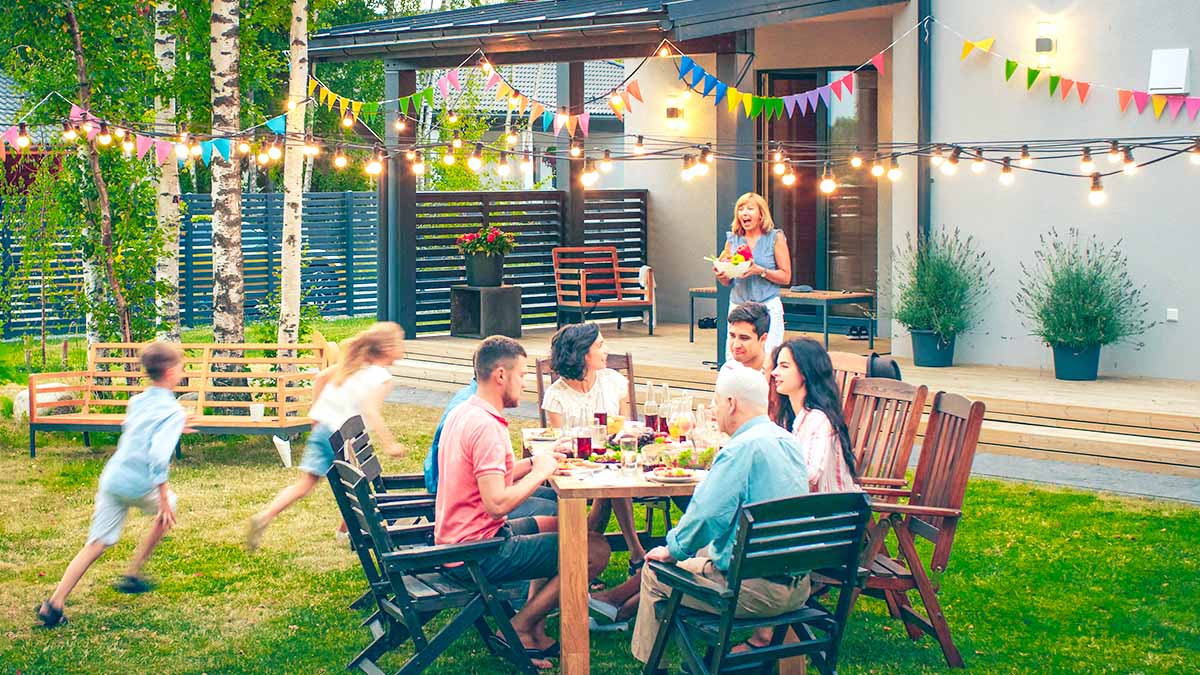 The sun is out, and outdoor hosting season is just around the corner. To make sure your space is ready for hosting, it's a great idea to start with a little outdoor decluttering! Whether it's getting rid of your rusted barbeque to make room for your new one or clearing that old swing set from your backyard to make a seating area, 1-800-GOT-JUNK? is here to help you enjoy your summer with family and friends sooner!
5 areas to clean up before outdoor hosting
Before you start sending out those invitations, it's important to make sure your space is ready for hosting. Follow these tips to prepare your home for any backyard events you may have this summer.
1. Declutter the yard space
The first thing your guests will see when you're entertaining outside  will be your yard, so make sure it's clear of any debris! Starting in the front yard, make sure to mow your lawn and spruce up your plants. Trim any extra long branches from trees and hedges, so your company can safely and efficiently make it to your home. If you have a side gate to enter the backyard, clear any clutter along the path for your family and friends. Do the same in the backyard, clearing and disposing of any leaves, branches, and other debris leftover from the winter and spring.
Whether you are hosting in your front yard or backyard, make sure the space is clean and clear for your guests to easily stand or sit. If you have a pool, ensure the area is clean from water spills and safe for guests to walk around. If you have old kid's playsets or trampolines that your children have grown out of that are taking up too much space, you may want to clear it out of the way to allow more room for hosting. 1-800-GOT-JUNK? can handle all the lifting and loading of these large items, all you have to do is point!
Image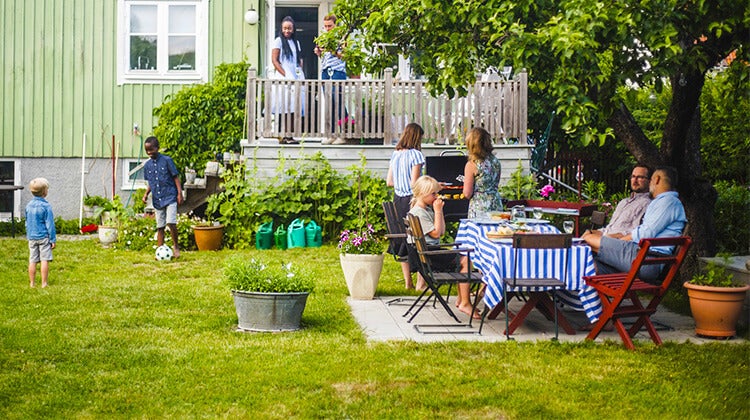 2. Organize the shed
It's time to dig into the shed to pull out any necessary items for hosting. Grab out your barbeque from storage, and wipe off any dust that may have accumulated over the winter. If your grill is normally left outside, make sure it hasn't rusted or been damaged from the cold weather. 1-800-GOT-JUNK? can haul away your barbeque if it has been damaged over the winter, or if you simply want an upgrade for all your outdoor hosting this summer!
Next, bring out any seasonal furniture that may have been stored away in the shed for the last few months and clean off any dust or dirt. Give chairs and seat cushions a quick lookover to see if there is any structural damage or areas with holes. You don't want to put out a broken chair for a guest to sit on! If you don't put furniture outside right away, make sure your seating options are easily accessible. Similar to the furniture, dig out any potential outdoor games you may need so they are also easy to access for guests. You never know when you might want to play some cornhole or bocce ball! If you don't have any activities but plan on getting some new games for the summer, ensure there is room for it to be stored safely by getting rid of any items you no longer need.
Image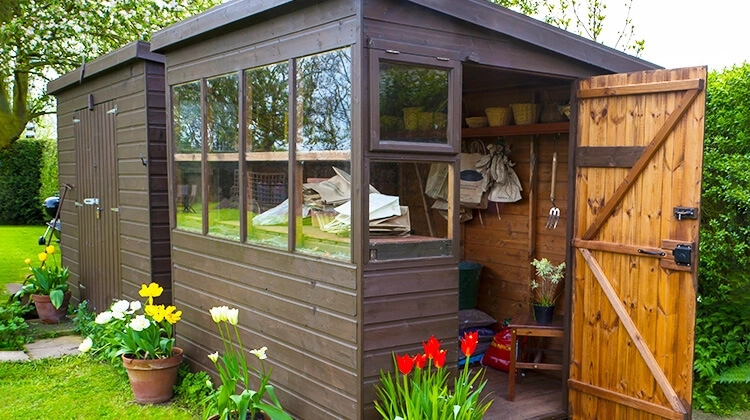 3. Freshen up the patio
After you've organized your shed and cleared out any broken or unwanted items, it's time to freshen up your patio space. Before moving any of your patio furniture onto your deck, wash both your deck and furniture thoroughly. Depending on the material of your deck, you may have different steps on how to clean your patio appropriately. For example, if your deck is made of wood, you may want to consider re-staining it so it not only looks amazing, but is protected from the elements too. 
If your patio furniture stays on the patio all year round, look it over to make sure it hasn't been damaged by the elements. 1-800-GOT-JUNK? can help by hauling away any broken or unusable furniture you find, like tables, chairs, planters, and more. After getting rid of anything you don't need, do a quick inventory to make sure you have enough seating for everyone invited. No one wants to be stuck sitting on the ground! Foldable chairs or bench seating are great options for additional seating if needed.
Image
4. Prep your kitchen space
The best part of outdoor summer hosting is the amazing food! While most of the grilling may take place outside, the majority of your prepping will most likely take place indoors. Start by making sure your kitchen is clean and organized, so you can easily run in and out during the event if you need to. Check out our comprehensive kitchen cleaning checklist for additional tips. Once your cleaning is done, prep any food you can in advance such as chopping up vegetables, mixing homemade dip, and pre-making lemonade. This will make it a lot easier to spend time outside with your guests when they arrive, rather than being stuck in the kitchen.
If you're lucky enough to have an outdoor kitchen, ensure it is completely stocked with everything you need before your guests arrive. It will save you time, as you won't need to step inside constantly to grab ingredients. Write a list of everything you'll need ahead of time, and don't forget essential items like condiments, cutlery, and drinks!
Image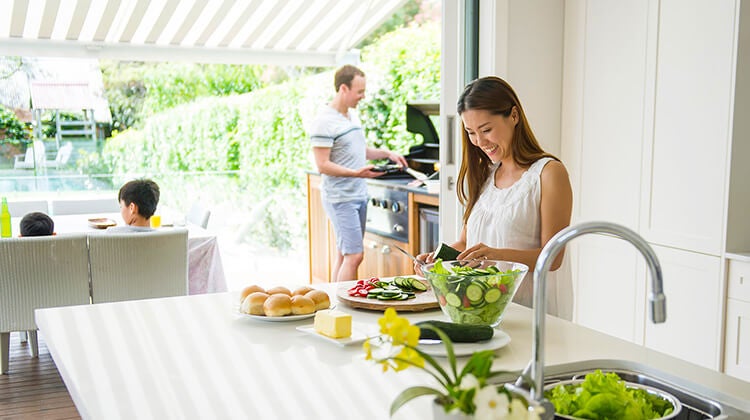 5. Clean high traffic areas indoors
Even though the hosting may be happening outdoors, there's always a good chance someone may need to step inside during the event. If your guests are entering through your front door to access the backyard, make room for bags or coats in the entryway or nearby coat closet. Clear your entry space of any shoes, backpacks, or more that may be blocking the entrance, and store them safely away from the door while you are hosting. If your closets are overflowing, move any out of season items like winter boots or jackets into storage, or consider decluttering and getting rid of any unused items.
Unless you have an outdoor bathroom area, guests will most likely need to step inside to use the bathroom as well. Give it a quick clean before hosting, and double check that it is sufficiently stocked with necessities like toilet paper, hand soap, and hand towels. For more tips on cleaning your bathroom, check out our blog for four easy steps to clear bathroom clutter.
Depending on the forecast, it may even be worth cleaning more areas inside just in case the weather turns from sun to rain. It can also be easy to move indoors later in the evening, once the air cools and the sun starts to set. You never know when the event might migrate indoors!
Image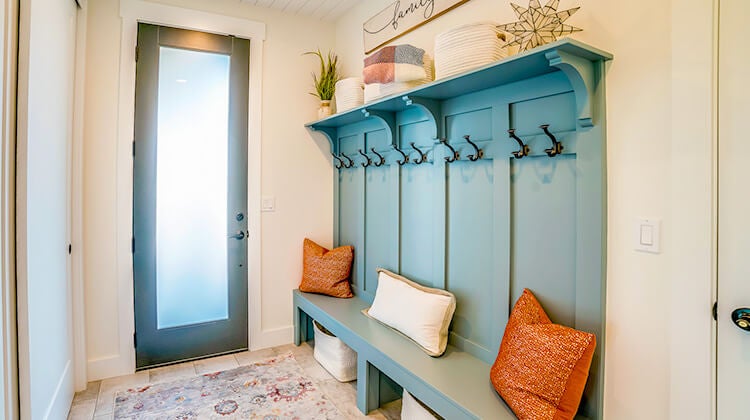 Now it's time to send out those invitations and enjoy your summer outdoors! To make your outdoor hosting run smoothly so you can focus on your loved ones, call 1-800-GOT-JUNK? to handle all your junk removal needs. We handle all the lifting, loading, and proper disposal of your items, so you can save your time and energy for hosting your family and friends all summer long!
Are you ready to start outdoor hosting this summer?
We make junk disappear.
Image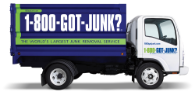 No obligation, in person quotes.
Quick and easy onsite payment.
No hidden fees.
Responsible disposal.