1-800-GOT-JUNK? and Extreme Makeover: Home Edition are changing lives
Image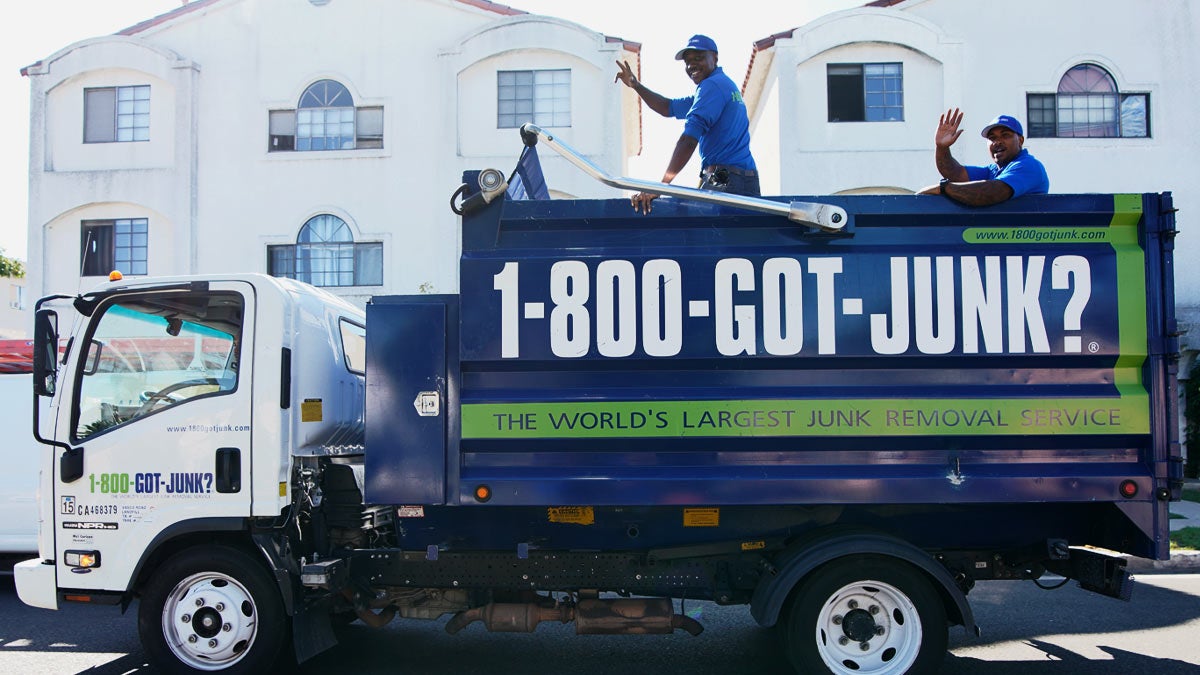 At 1-800-GOT-JUNK? we had the privilege of helping transform six homes by donating our junk removal services on the Extreme Makeover: Home Edition TV show. We are thrilled to have worked with a brand whose values line up with ours: professional, happy, trustworthy, and friendly. Partnering with Extreme Makeover: Home Edition proves that we are bigger and better together - we made magic happen for seven families! 
On Extreme Makeover: Home Edition, six 1-800-GOT-JUNK? franchises worked over 1200 hours and hauled away 200+ truck loads of junk! We provided convenience by removing junk from where it was located, enabling the construction crew to have a clean slate to start renovating. Our teams hauled away a wide array of construction waste and always prioritized recycling the recyclables. Some common items we removed were: 
Drywall

Flooring

Windows

Wood 

Landscape materials 

Bricks

Worn-out furniture 

and more! 
With the help of over 30 of our Truck Team Members and hundreds of community volunteers, seven families had their homes transformed, forever improving their day to day lives. You can catch us in action on the next episode of Extreme Makeover: Home Edition airing Sundays on HGTV, or steam it via the HGTV GO app. Did you miss an episode? Don't worry! Keep reading to find out about the deserving families, their home transformations, and our franchises who helped make them happen. 
Extreme Makeover: Home Edition transformations 
The Joseph family: Carson, California
Deon Joseph, his wife Tosha, and their three boys are committed to helping the less fortunate in their community. Deon is a Los Angeles police officer, who has been working on Skid Row for over 20 years helping the homeless population. This area has a high rate of violent crimes, theft, and drug sales that Deon is trying to help mitigate. He is committed to helping the people in this area improve their lives by finding them housing and food. The Joseph family even assembles hygiene kits in their garage to hand out to the homeless.
Over the years of helping others, fixing up their home has taken a back seat. The Joseph's home has doors hanging off their hinges, heating pipes that are too old to be fixed, mold, and water damage. Tosha says she shows her love through cooking, but their dated galley kitchen doesn't have nearly enough space for what she needs. On top of that, their garage is cramped, filled with boxes, and doesn't give them enough space to put together hygiene kits.
Image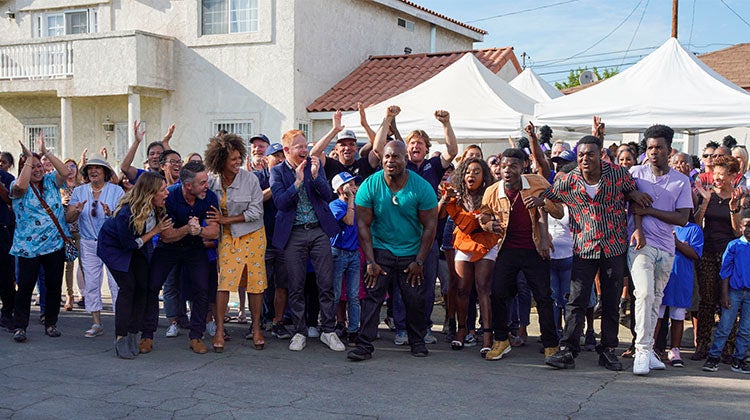 Thanks to Extreme Makeover: Home Edition, hundreds of volunteers, and 1-800-GOT-JUNK? Greater LA, the Josephs now have a completely decluttered and transformed space! The design team knew that the beach held a lot of importance to the family, as that is where Deon and Tosha met, so the Joseph's home was renovated to feel like a beach escape. To carry the beach feeling throughout the home, the design team used natural wood, light colours, and created airy spaces by opening up the floor plan. The kitchen, dining room, and living room walls were removed, creating one cohesive space where the family could all be together. 
The design team completely transformed the exterior of the house by creating a backyard entertainment space, complete with a bar and a hot tub to really bring in feelings of a beach vacation. The front of Joseph's home also got transformed to the point where it is unrecognizable! It now has a front porch with an extended roof to cover it. The design team also moved the front door to the center of the home and added a roof gable over it creating a larger entrance way. Check out the amazing exterior renovation below!
Image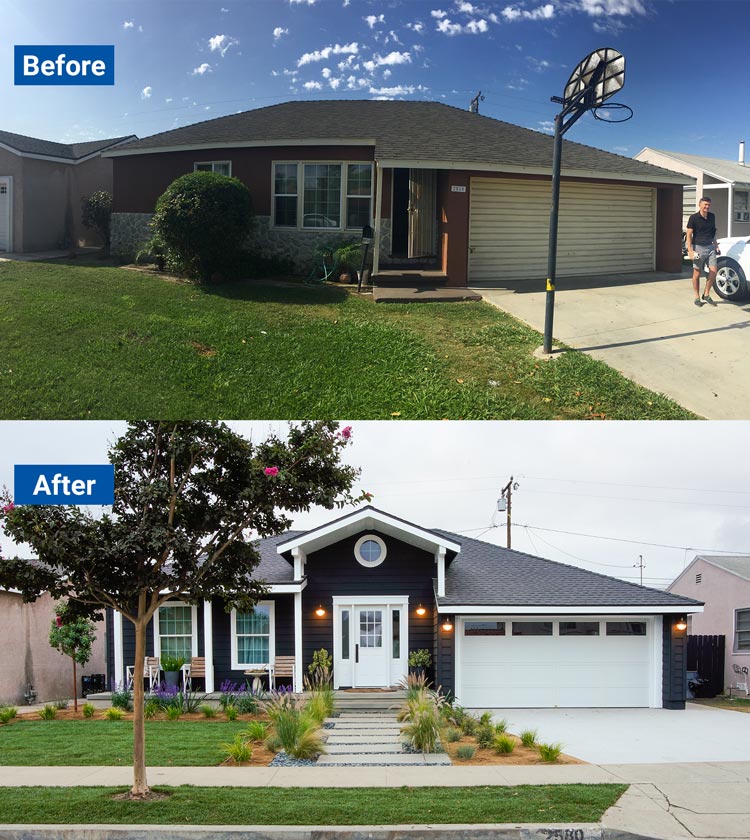 The Fifita family: Hawthorne, California
Brian and Lisa Fifita, and their five children, are constantly giving back to youth in their community. Unfortunately, their neighbourhood has a lot of gang violence and Brian's nephew was killed in a drive-by shooting, which devastated the entire family. From that point on, Brian was committed to reducing the chance that any other family in his community would experience a loss like that. The Fifita family decided to offer up their home as a safe haven for at-risk youth. Whoever needs a place to stay for a while, or even just a night, is always welcome at the Fifita's home.
After years of people coming in and out of the Fifita's home, it has gotten a little worse for wear. The roof is coming apart, there are cracks in the ceiling, the kitchen is worn down, and there are plumbing issues. On top of those problems, they have a very small space for all of the people they want to help.
Image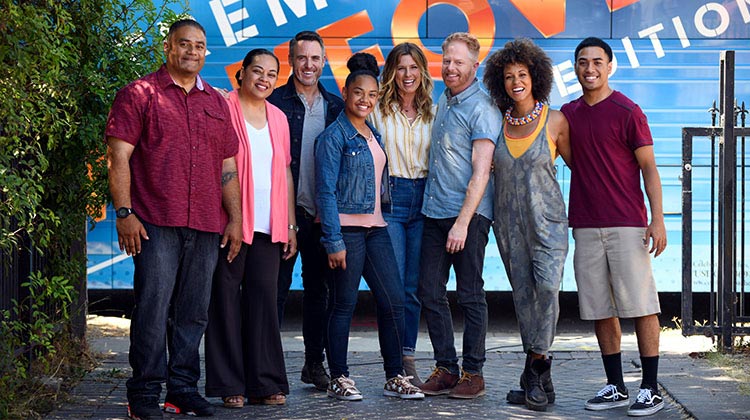 After hearing the Fifita's story, the team at Extreme Makeover: Home Edition knew they wanted to give them a home transformation. With the help of the design team, hundreds of volunteers -- some of who once stayed at the Fifita's home -- and 1-800-GOT-JUNK? Greater LA, the Fifita's home became a beautiful and functional oasis inspired by their Polynesian heritage. 
It's important to the Fifita family to all be under the same roof. So the team at Extreme Makeover: Home Edition updated the layout, connecting the separate carriage house to the rest of the home. With this change the team also added 780 square feet to the home, almost doubling its original size! The design team integrated bunk beds and Murphy beds into the home to allow the Fifitas to help even more youth. Walls were removed  from around the kitchen to open it up into the living room. They installed grass wallpaper in the living room and kept the colour palette neutral with pops of green to give the feeling of an island retreat. Check out the Fifita's decluttered and transformed living space below!
Image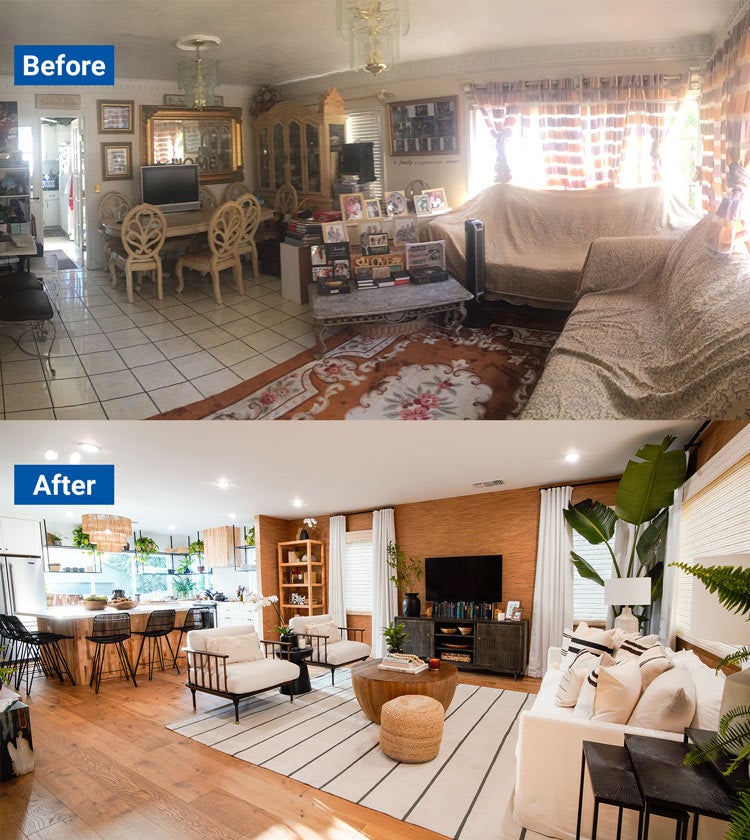 The Jauregui family: Pomona, California
Pedro Jauregui has dedicated his life to serving his country and helping homeless veterans get the resources they need to improve their lives. Pedro served eight years in the US Marine Corps and another four years in the US Army as an aircraft mechanic. Unfortunately during his time in the military he witnessed some horrible events, leaving him with PTSD like many other veterans.  Pedro's experience has helped him relate with and understand what homeless veterans are going through, enabling him to communicate in a way that resonates with them. He believes that homeless and veteran are two words that should never go together, so he helps veterans get off the streets and find the treatments they need to cope with their own PTSD.
Since Pedro and his wife Phyllis are so focused on helping the veterans in their community, they never have time to do anything for themselves, which has resulted in their 100 year old house not getting the maintenance it needs. Their craftsman style home still has its original wiring from the 1920s, a bug infestation, termite damage, and an overgrown backyard that is too dangerous for their three children to play in.
Image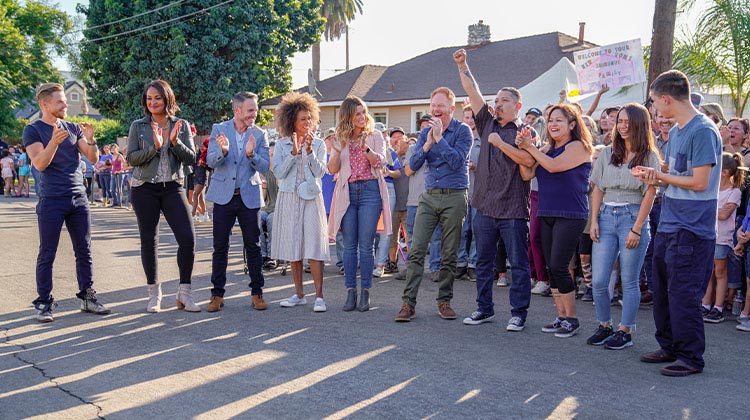 Thanks to the team at Extreme Makeover: Home Edition and the 1-800-GOT-JUNK? franchises in LA County East, Encino, and Riverside, the Jauregui's home has been given a new lease on life. The small two bedroom, one bathroom home that didn't accommodate the family of five, received an addition that expanded the home into a three bedroom, two bathroom. 
The design team removed a wall between the kitchen and the dining room to open up the space and make the home feel more modern. To keep some of the vintage touches, they saved the glass doors from a built-in cabinet to repurpose as stained glass windows in the master bedroom. The Jauregui's backyard became a place to entertain, complete with a pergola that has a drop down screen, perfect for outdoor movie nights. The family's youngest daughter Evie was given "Evie's Land", an outdoor play space complete with a playhouse, a picnic table, a garden space, and a sandpit full of toys. Check out the Jauregui's amazing backyard transformation below!
Image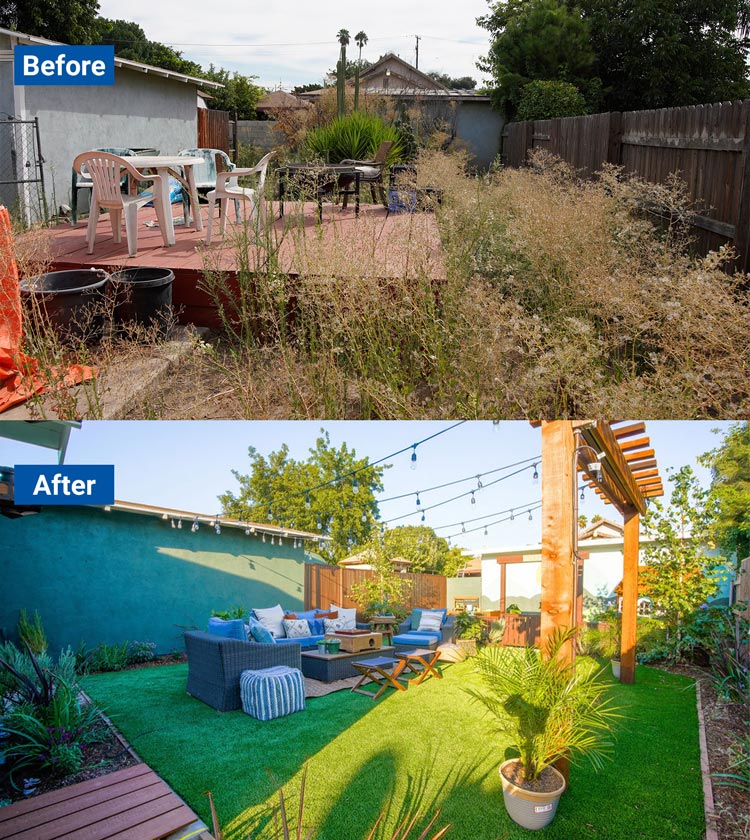 The Merlos and Olivares families: Palmdale, California
Ernesto Olivares and Mario Merlos met in elementary school and have since built a friendship to last a lifetime. When Mario expressed interest in joining the marine core, Ernesto knew he wanted to do the same, as a way to help his country and be there to support his friend. Mario and Ernesto are now both veterans trying to reacclimate into society with their wives and children. Unfortunately, both families are currently living in apartments that don't fit their lifestyles or needs, and since they are renting they cannot make any modifications.
On this episode, not only has Extreme Makeover: Home Edition partnered with the 1-800-GOT-JUNK? franchises in Burbank, Encino, and LA Metro, but they have also partnered with Home 4 Families, an organization that helps build affordable housing communities for veteran families. The Olivares and Merlos families will be the first residents in the Palmdale Home 4 Families veteran community that will eventually house 56 families. 
Image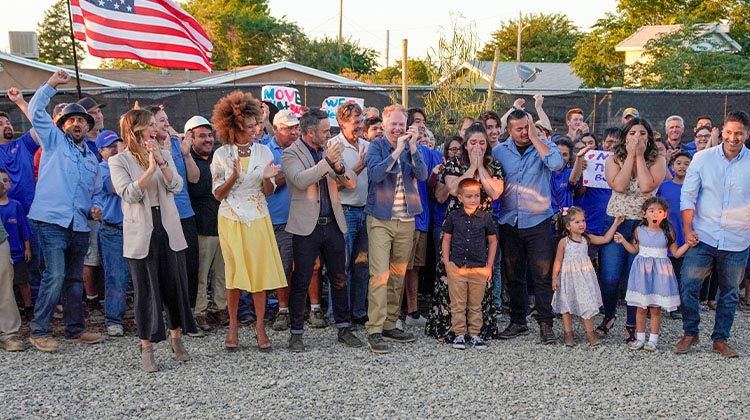 Extreme Makeover: Home Edition surprised the Olivares and Merlos families with a brand new duplex and community playground! To accommodate the families of four, each side of the duplex has three bedrooms and two bathrooms. Since Ernesto and Mario were away in the military for part of their children's lives, the design team created an open-concept living room and kitchen so the families could spend as much time together as possible.  
Each family's home has a personalized touch. The Oliveras family received a soundproofed garage so Ernesto could continue with his drum therapy and not disturb the rest of the house. The Merlos family received a handcrafted art piece that displays a quote from a love letter Mario had written to his wife while he was in the military. These special touches go a long way in turning a house into a home. Check out the amazing ground-up build that transformed the Olivares and Merlos families' lives below! 
Image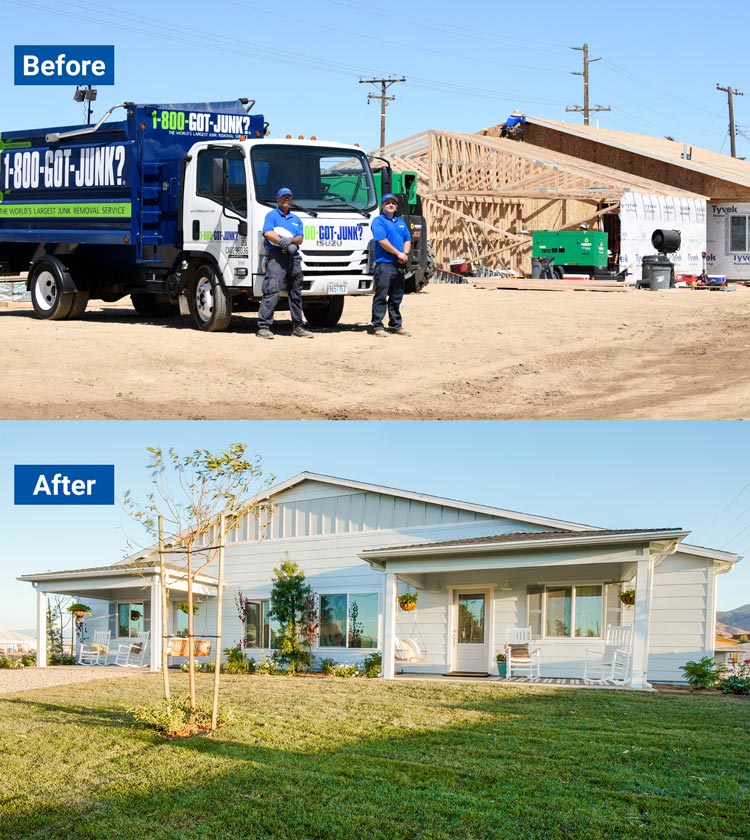 The Washington family: West Athens, California
This week's episode of Extreme Makeover: Home Edition follows the deserving Washington family: Thom, his wife Stephanie, their daughter Kennedi, and Stephanie's sister Terri. Thom Washington is a pastor, who grew up around drugs and gang violence, and decided he wanted to do something to help at-risk youth in similar situations. As a result, he founded Engage the Vision, a mentorship program that gives hope and guidance to help youth get out of bad situations. Many of the Extreme Makeover: Home Edition volunteers helping renovate his home were actually from Engage the Vision! 
Unfortunately, a year ago Thom was diagnosed with Stage 4 colon cancer. At this time, Thom's sister-in-law decided to move in with the family and act as his caregiver, as she is a cancer survivor. Thankfully, Thom is now in remission, but due to his medical bills the Washington family hasn't been able to fix the home that they inherited. The home has severely deteriorated and is unlivable due to termite damage, water damage, and poor electrical, causing the family to rent a secondary property.
Image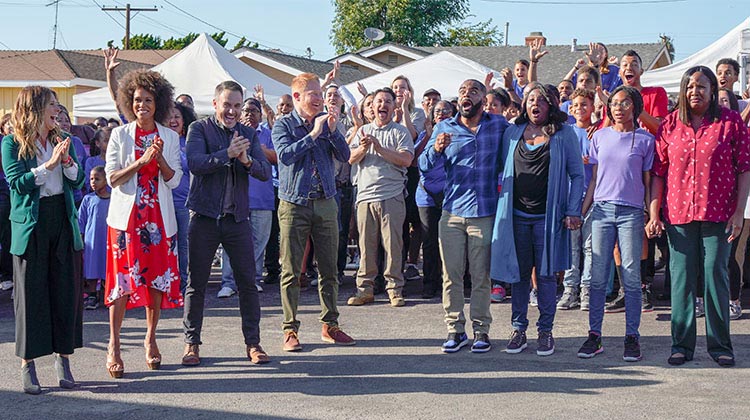 A huge thank you to the Greater LA 1-800-GOT-JUNK? franchise that helped clear out the 1970's junk so the home could be revamped into a mid-century modern design. After the junk was hauled away, the Extreme Makeover: Home Edition team realized how sentimental the Washington's home was, so they tried to keep as many elements as they could. They framed a rug that Stephanie had made with her mother, turning it into a piece of artwork. They also repurposed the rainbow blinds from Stephanie's and Terri's childhood bedroom into a geometric art piece for Kennedi's room. In addition, they saved their father's record collection and developed an old roll of film with which to surprise the family. 
When it came to re-doing the living space, they kept the layout similar, so the Washingtons could still see the bones of the old house. They swapped outdated couches for a built-in banquette to optimize space, and opted for exposed wood to give a nod to the '70s. Check out the amazing before and after of the living room and kitchen renovation below!
Image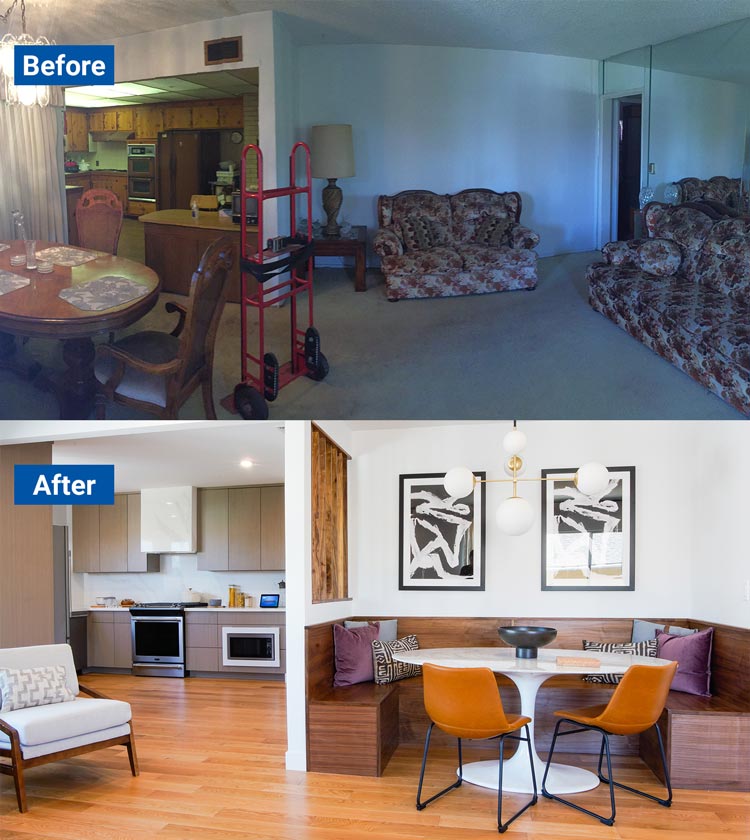 The Holtzclaw family: Covina, California 
It's easy to see why highschool teacher Jeff Holtzclaw was gifted a home transformation through Extreme Makeover: Home Edition. Jeff gives back to his community by teaching at the Margett Pathway Academy, a place for students who need an alternative educational environment. Many of Jeff's students were involved with gangs or are on parole, and he is committed to helping them achieve a better future. 
Even after being in a major motorcycle accident, which left him with a prosthetic leg and in a wheelchair, Jeff is still a dedicated teacher. Unfortunately, his home was not wheelchair accessible, leaving him isolated from certain parts of the house, away from his wife and three daughters. 
With the help of Extreme Makeover: Home Edition and the three 1-800-GOT-JUNK? franchises that were involved with the junk removal from this build -- LA County East, Encino, and Burbank -- the Holtzclaws now have a completely redesigned, junk free, wheelchair friendly home. 
The Holtzclaw's dimly lit and extremely narrow kitchen with peeling paint was completely revamped! By removing multiple walls (that 1-800-GOT-JUNK? hauled away), their kitchen was transformed into an open space so Jeff can freely move about. The design team installed windows behind glass cabinets to let the natural light shine through and brighten up the space. Instead of basic appliances, they opted for a bright blue fridge, stove, and dishwasher to add a pop of colour! Check out the stunning before and after below!
Image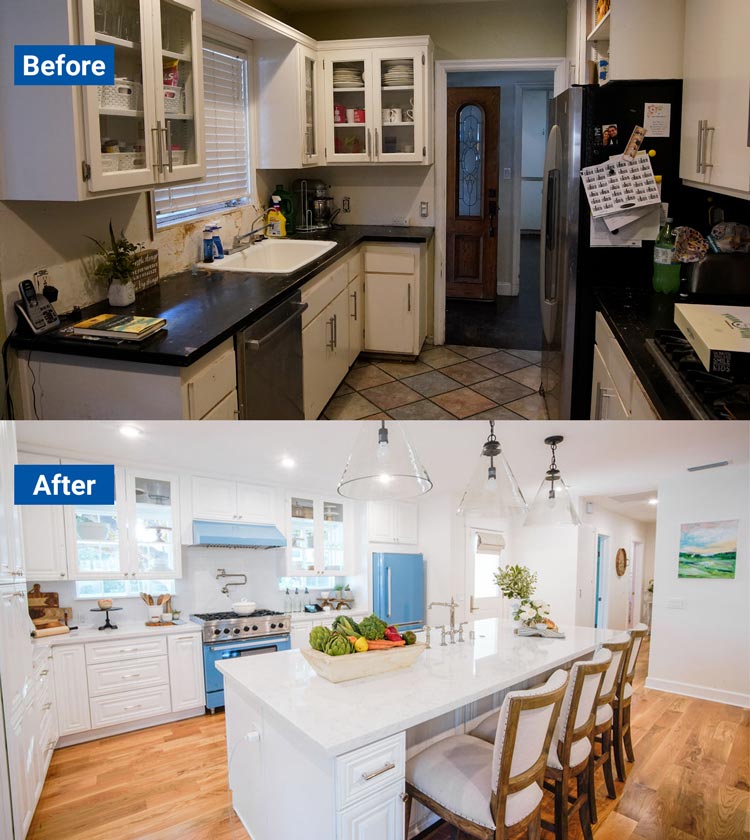 For more information, check out how 1-800-GOT-JUNK? makes dream homes come true with Extreme Makeover: Home Edition. 
If you need help hauling away junk from your own home makeover, what are you waiting for?
We make junk disappear.
Image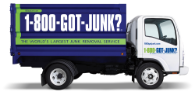 No obligation, in person quotes.
Quick and easy onsite payment.
No hidden fees.
Responsible disposal.