The top junk removal items we took in 2019
Image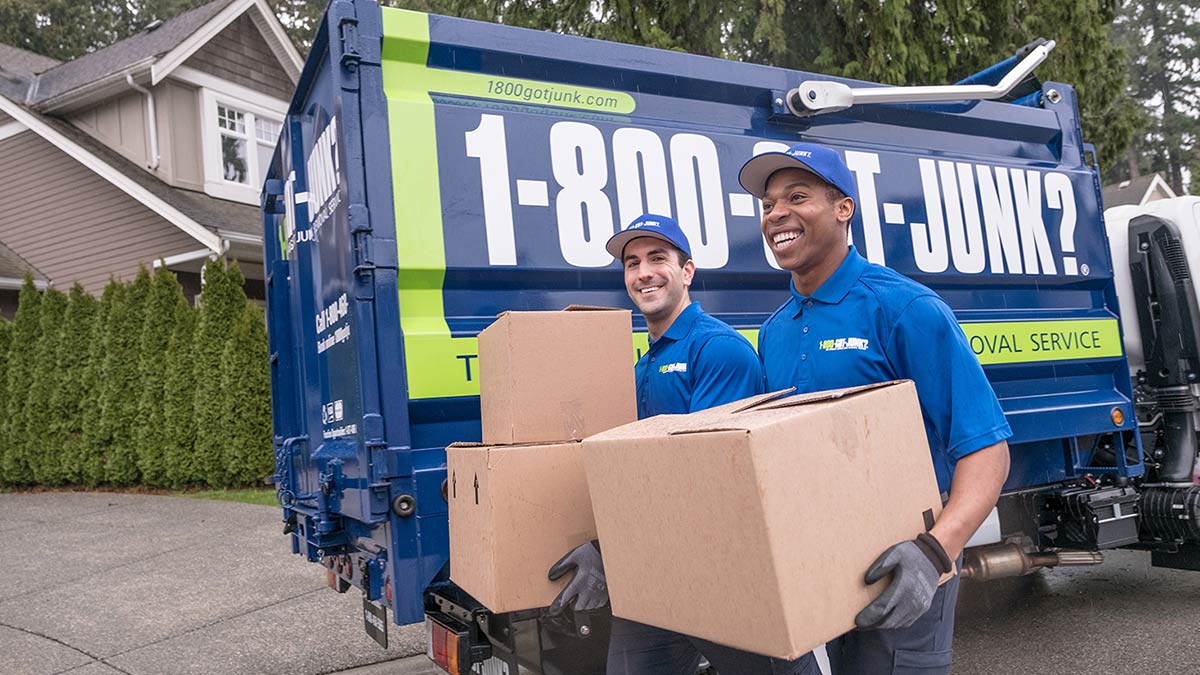 1-800-GOT-JUNK? has hit some huge milestones in 2019, and you won't believe the amount of items our 1,265 trucks have hauled this year! From making over 34,000 couches disappear to hitting a toy donation milestone of 250,000, our teams across three countries are committed to bringing relief to people and helping our communities. For every truckload, we work to donate the donatables and recycle the recyclables, as a way to divert as much as possible from the landfill. 
Keep reading for a round-up of some of the most common items we've taken, proving no item is too big for our teams to handle!
The 10 most common junk items removed in 2019
1. Mattresses 
From homes to business, we've helped haul away over 34,000 mattresses in 2019! Keep in mind that mattresses can be recycled! For more information on how you can dispose of your unwanted mattresses, check out our mattress FAQ page. 
2. Televisions 
In 2019, 1-800-GOT-JUNK? has picked up over 31,900 televisions! Whether your TV is broken or you're simply upgrading, it is important to dispose of TVs properly, as they can contain hazardous materials such as lead and mercury. At recycling centers, they will ensure disposal is done safely and that some of the parts are re-used. To read more about the recycling process for TVs, along with mattresses and fridges, check out this blog post.
3. Sofas 
After you shake the loose change out of your old sofa, consider donating the sofa! Whether you have an unwanted sofa, sectional, or futon, we can take it. In 2019, we've hauled over 20,000 of them! For more information on sofa removal, check out our furniture removal FAQ page. 
4. Fridges & freezers 
Did you know a 1-800-GOT-JUNK? truck can fit 8 full sized refrigerators? This year we've hauled 16,744 fridges and freezers, or some 2,000 truckloads full of just fridges and freezers for responsible disposal! Check out this video to see what else we can fit in our truck.
5. Tires
Tractors, trucks, and cars, oh my! We can take tires no matter the size, and in 2019 we've hauled 6,851 of them! If you're looking for an eco friendly way to dispose of your tires, many recycling facilities will accept them. To find when you can recycle your tires, check out the tire recycling center locations list for Canada or the USA.  
6. Pianos
While pianos are beautiful instruments, they do take up a lot of space. This year, 1-800-GOT-JUNK? has removed over 2,400 pianos to give people the gift of space! One happy customer, turned to us after months of trying to sell her unwanted piano with no luck. She was overjoyed with our "great guys, great pricing, and peace of mind."
When you've decided to part with your piano, consider donating it to a local non profit in your area. Often times schools or music programs are also looking for additional instruments to help students learn. If you can't find anyone willing to accept a donation, get in touch with us. We work with many charities and often donate pianos.
7. Hot tubs
Hot tubs can be quite difficult to remove given their weight and size, but with a little help from 1-800-GOT-JUNK? all you have to do is point! This past year, our teams have hauled away over 1,700 hot tubs! For more information on hot tub removal, check out our hot tub removal FAQ page. 
8. Treadmills 
When your treadmill starts to become more of a coat rack than an exercise machine, you know it's time to remove it. Make the most of your space by sending that unused treadmill to join the over 1,800 others that 1-800-GOT-JUNK? has hauled away in 2019!
9. Washers & dryers
In 2019, we've hauled over 1,600 washers and dryers! Washers and dryers, along with any other appliance containing metal, should be recycled, as producing new metals can be costly and damaging to the environment. For more information on how to dispose of your old washer/dryers, check out our appliance FAQ page. 
10. Barbeques
While barbeques can be a great cooking option in the summer, they tend to become quite neglected in the colder months. If your barbeque has seen better days, just call 1-800-GOT-JUNK? to take it off your hands. We can make your barbeque disappear along with the over 1,400 others we took in 2019.
Image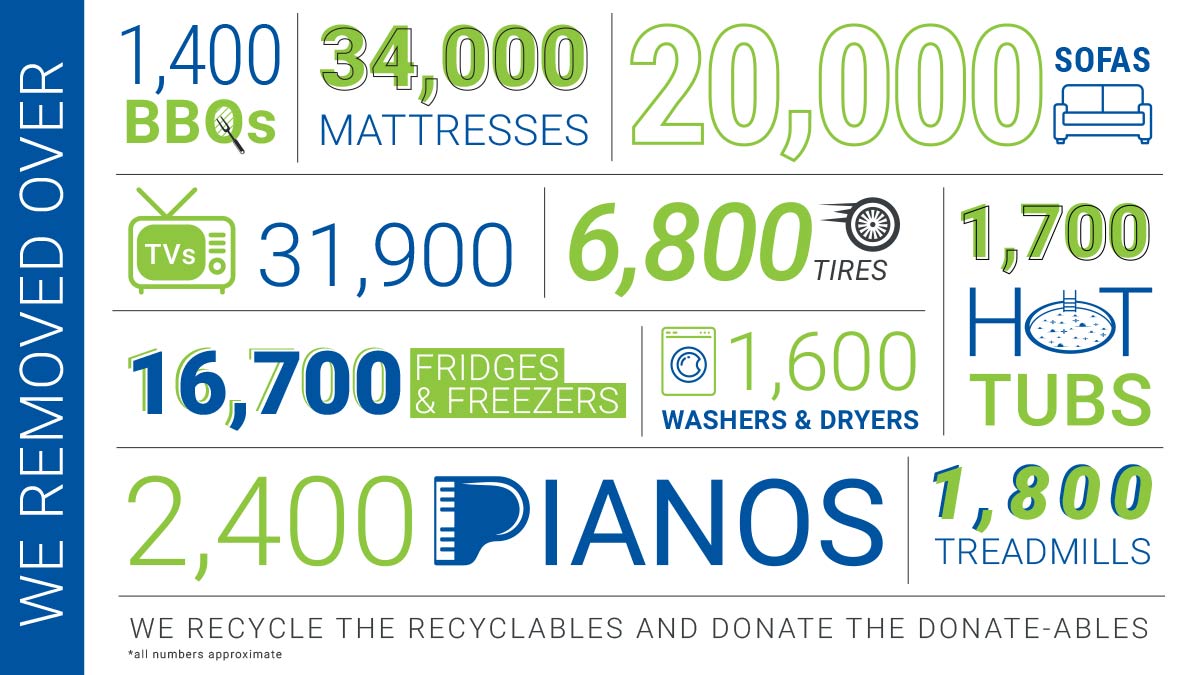 When we remove all of these unwanted items, we prioritize sustainability. Whether recycling or donating, we strive to divert as many items from the landfill as possible. To ensure consistent donation, our franchises partner with various charitable organizations. One of the main charities we are involved with is Second Chance Toys, who we help by delivering gently used toys to children who need them. In 2019 we hit a partnership a milestone, by reaching 250,000 toy donations since we started working with the organization! We also work with Soles4Souls to provide gently used shoes for people in need overseas. This year we hit half a million shoes donated to Soles4Souls!
Without the hard work of over 3000 friendly, uniformed Truck Team Members, this large amount of junk removal and donations wouldn't be possible! Our teams always execute these jobs with a smile and a high level of professionalism, which is why we've received 24,250 five star reviews in 2019! We believe that if you look after your people, your people will in turn look after your customers, and those reviews are proof.
If you're concerned that you might have an item that is too weird for us to pick up, don't be! From taxidermy to creepy Santas we've seen it all. Check out our Weird Junk Top 10 List for a round up of the strangest items we've picked up in 2019!
If you're ready to get rid of items that have been holding you down this year, call 1-800-GOT-JUNK? or...
We make junk disappear.
Image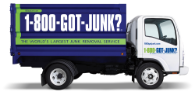 No obligation, in person quotes.
Quick and easy onsite payment.
No hidden fees.
Responsible disposal.