1-800-GOT-JUNK? makes junk disappear on Space Invaders
Image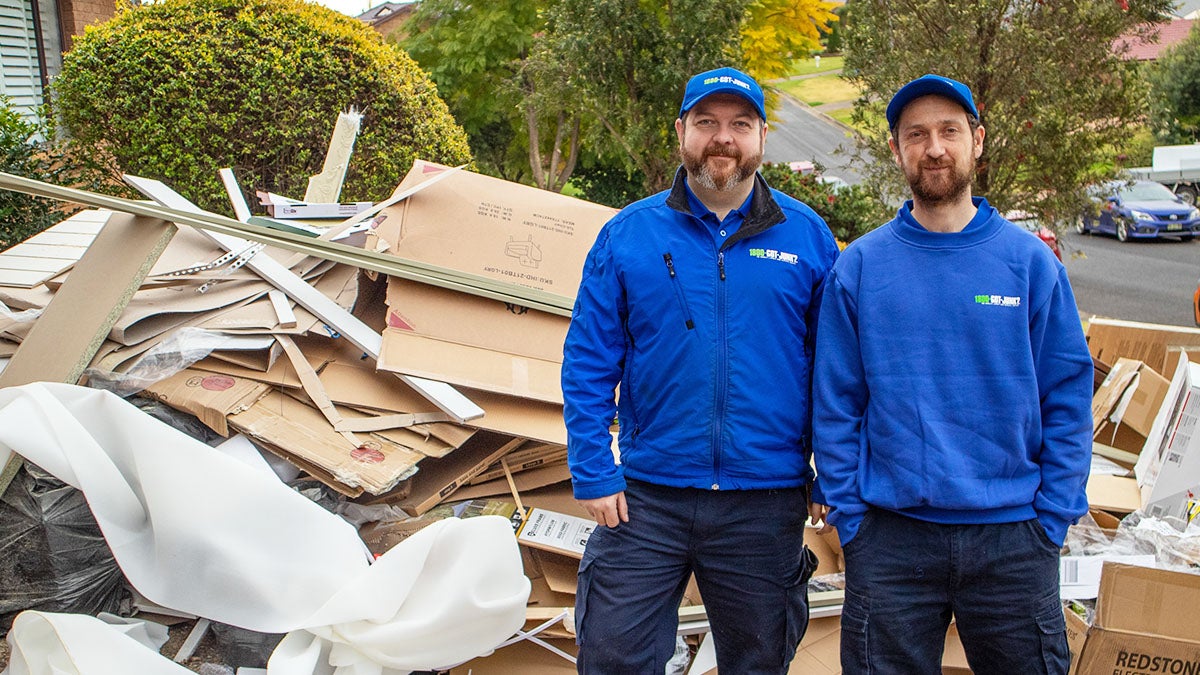 At 1-800-GOT-JUNK? we had the privilege of partnering with declutter guru Peter Walsh, renovation queen Cherie Barber, and treasure hunter Angie Kent for the show Space Invaders! In this heartwarming and uplifting series, our team helps Peter, Cherie, and Angie to transform people's lives by confronting their physical and emotional clutter. Throughout the season, our 1-800-GOT-JUNK? franchises based in Australia helped out by removing unwanted items and renovation debris, which allowed the families featured to have a clean space to come home to.
No matter how big the renovation, our teams helped by removing all types of construction debris like drywall, gravel, concrete, and wood, while recycling and donating when possible. Check out how we were able to help with the amazing transformations from the show and find out how 1-800-GOT-JUNK? was involved!
Space Invaders transformations
In each episode, our 1-800-GOT-JUNK? Australia teams were eager to help remove the clutter from people's lives. No matter how big the job, our team was happy to help bring joy to these families!
1. Bec and Julian
After a series of hardships, couple Bec and Julian, with their son Casper, are drowning in clutter. Their apartment is filled to the brim, with unwanted items taking over the hallway, bedrooms, and even kitchen. With the help of Peter, Cherie, and Angie, they clear out their home and begin to tackle both the physical and emotional clutter that has been overwhelming their family. While sorting through their items in a nearby warehouse, Peter also encourages Bec to stop deflecting difficult emotions, and helps the family connect and grow. Back at the apartment, Cherie works to bring space and functionality back to Bec and Julian's home.
Once Cherie had renovated Bec and Julian's home, it was time to call 1-800-GOT-JUNK? to remove the construction rubbish leftover from the massive transformation! Our friendly team was able to clear the space quickly of any debris, so Cherie could finish getting Julian and Bec's home ready for them. From drywall to leftover tiling scraps, 1-800-GOT-JUNK? was happy to make all of the construction debris disappear!
Back at the warehouse, Peter celebrated with Bec and Julian, congratulating them on their extremely successful decluttering. They managed to reduce their household items from 197 bins of stuff, down to only 28 bins! Next, it was off to see Cherie's amazing renovation, transforming the apartment with a lovely 1930's Heritage-style aesthetic. Not only were the rooms so clear and spacious, but Cherie was also able to transform a bedroom into an office for Julian, so he no longer had to work on the kitchen table. To top it off, Angie used some antique lights from Bec's family to decorate the kitchen, allowing the pieces to shine rather than be hidden in a box. Now Bec and Julian's family can have a fresh start, and begin to move forward with their decluttered homes and minds!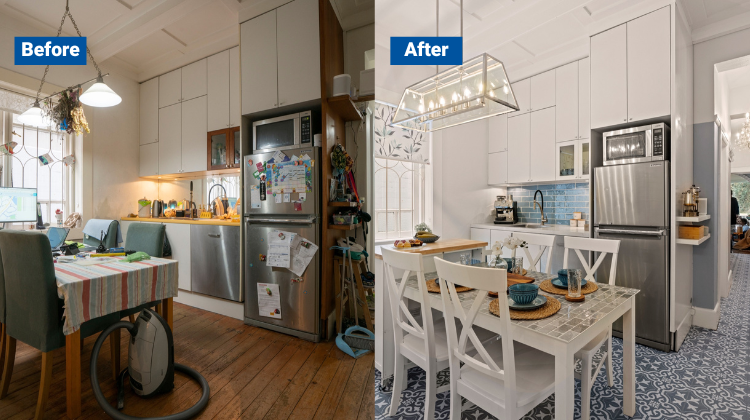 2. Jill
Since her difficult IVF journey and painful divorce, Jill has struggled with letting go of things from the past. Hidden just barely with a thin curtain, the downstairs rumpus room has become swamped with clutter and bad memories. Everything from children's toys, items from her ex, and even a piano is hidden away in the cluttered room. After clearing everything from the room and moving it to a nearby warehouse, Peter helps Jill confront her emotional baggage around the items cluttering the room, and encourages her to send all of her ex's items to storage. Back at the house, Cherie tackles the renovation, facing a few challenges along the way.
After facing all obstacles and finishing the rumpus room renovation, Cherie gives 1-800-GOT-JUNK? a call to help pick up all the construction rubbish. Our clean, shiny truck pulls up to the huge pile of cardboard, wood, and various construction materials out on the driveway. However, it's no match for our two friendly and eager truck team members who were able to quickly pack everything into our truck, so that the home would be all cleaned up for the big reveal! They even welcomed the big job with a smile and thumbs up!
With the help of Peter and her two daughters, Jill was able to downsize from 227 boxes of clutter to only 21 boxes! Finally, it was time to go home and see their clutter-free rumpus room, which Cherie turned into two family zones. The first area featured a new functioning fireplace and a large comfy couch, creating a space to spend time together relaxing as a family. Angie was even able to incorporate vintage dolls from Jill's mother into the decor, highlighting the vintage family heirlooms. In the second area, Cherie created a kid's corner with a crafting station and Jill's piano, allowing Jill and her girls to spend time creating and learning. With the help of Space Invaders, Jill can now focus on her bright future with her daughters, and this exceptional family can thrive clutter-free!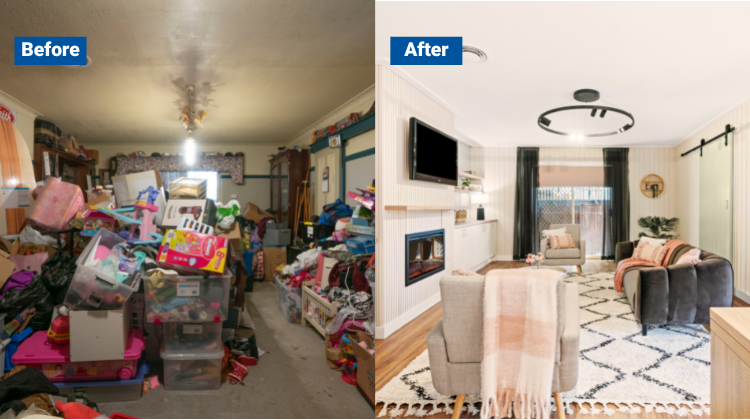 3. Jo and Shayne
Jo and Shayne's home has been taken over by clutter, to the point where their teenage sons, Jack and Matt, are embarrassed to invite friends over. Both the garage and recreation room are filled to the brim with sentimental items, mostly from Jo's parents who passed away. The stress from the clutter is impacting Jo's chronic health condition, and it's time to finally clear the space with the help of Peter, Cherie, and Angie. 
While going through their enormous piles of clutter in a warehouse, Peter reminds Jo and Shayne that while they may be worried about losing memories by decluttering their family's stuff, holding on to those items means they can't move forward and create their own positive memories with their sons. Back at the house, Cherie does some major updates to the recreation room with the help of Jack and Matt, and Angie works her magic to refurbish some vintage finds hidden under the clutter.
Once the recreation room and garage were fully renovated, our 1-800-GOT-JUNK? team was called in to help with clearing the renovation clutter. We were able to clear out all the leftover junk, removing anything from leftover wood, extra drywall, cardboard boxes, and more. The 1-800-GOT-JUNK? team quickly tossed everything into the back of the truck and cleared the construction rubbish from the house, so Cherie could focus on adding the final touches to Jo and Shayne's newly refurbished recreation room and garage.
Back at the warehouse, Peter celebrates with Jo and Shayne after they're successful decluttering, downsizing from 268 boxes to only 49! Next it was Cherie's turn to wow the family, by showing off the newly created entertainment room and open garage. Mixed in with all of Cherie's room updates, Angie showed off the amazing work she did with preserving some of the family's memories. Not only did Angie create a memorabilia board filled with sentimental items and photographs, but she also refurbished a vintage pinball machine and Jo's father's motorcycle. Thanks to the help of Peter, Cherie, and Angie, now the family can spend more time together, celebrating the past in a positive way and making wonderful new memories.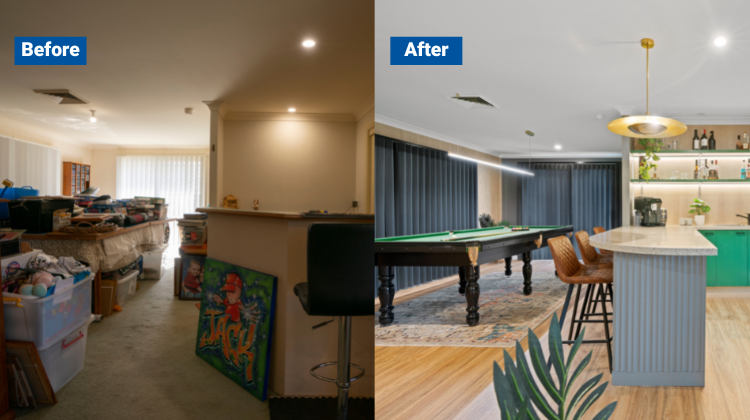 4. Kim and Laura
Bachelor Australia stars Laura Byrne and Matty J call in the team to help Laura's mom Kim, as her house is overrun with clutter and half-completed renovations, to the point that Kim is uncomfortable having guests over. This makes it difficult for Kim's daughters, Laura and Alisha, to bring their growing families over to create new memories. The half-done renovations have also made it so Kim and her husband have been unable to sleep in their main bedroom for the past three years. After moving all the clutter to a nearby warehouse, Peter discovers that a large amount of the items have been left there by Laura and Alisha. He reminds the women that while these nostalgic pieces from their childhood may have value, they are also costing Kim her happiness and comfort, and pushes them to move on.
Back at the house, Cherie works diligently to finish off the renovations while still keeping the antique charm of the home that Kim loves so dearly. Once all the work has been completed, Cherie calls in 1-800-GOT-JUNK? to clear the renovation rubbish. Our team worked diligently, going in and out of the house  to remove the rubbish from exactly where it was. The 1-800-GOT-JUNK? Australia team quickly cleared the home of any leftover rubbish, such as trash bags, cardboard boxes, and more, so Kim can come home to a fully cleaned space.
After an emotional decluttering for Kim, Laura, and Alisha, they find out that they were able to reduce 138 boxes of stuff down to only 32 boxes! Now that they've got rid of the unnecessary clutter, it's time to come home and see the newly cleared house. The entrance to the house, which was previously unusable due to the clutter, is now open with an entertaining space. A newly created crafting room holds all of Kim's yarn and sewing supplies, and even a craft box for the grandchildren which Angie created using old drawings from Laura. Best of all, the spare and main bedrooms were fixed up, allowing Kim to finally sleep in her bedroom for the first time in three years! Now with a newly decluttered home, Kim is eager to have her daughter's and their families over more to create wonderful new memories!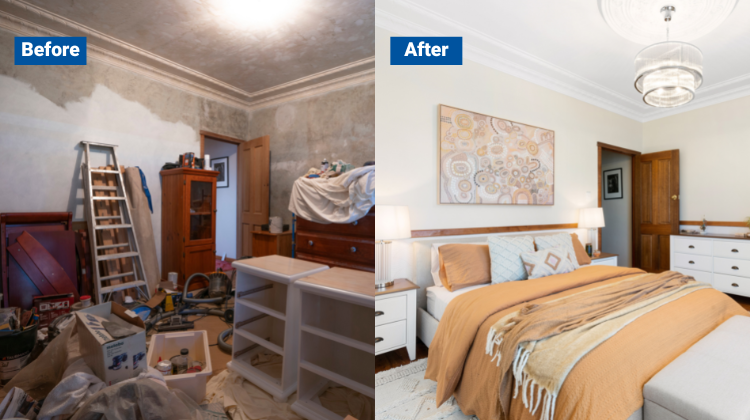 5. Luke and David
Loving partner David supported Luke through a personal crisis, but the aftermath has overwhelmed their small townhouse. Luke's shopping habits have left their home cluttered, with tons of trinkets, furniture, and artwork. However, as they begin to declutter in a nearby warehouse, Peter picks up on their "communication clutter", where David has let Luke make all the decisions for their home and sits back without speaking his mind. After some prodding, Peter discovers David is afraid to speak his mind, due to fears that it will lead to the end of Luke and David's relationship. Peter reminds them both the importance of being honest, and allowing space for them both to be represented in their home. 
Back at the townhouse, Cherie focuses on creating Luke and David's eclectic haven, including removing the old carpet, adding a security door for their dog, and installing storage nooks for their remaining belongings. Once Cherie has finished all the renovation work, it's time for 1-800-GOT-JUNK? to step in! Our team quickly pulls up to the townhouse, and removes all the builder's rubbish from the renovation. In the blink of an eye, 1-800-GOT-JUNK? has cleared out all the construction clutter, leaving room for Luke and David's townhouse to be furnished with all the remaining items from their decluttering.
With the help of Peter, Luke and David work together in unison to downsize their boxes of stuff from 117 boxes to only 32 boxes! Even better yet, they were able to declutter together, ensuring both of them were represented in the "keep pile". Finally, it's time to see their newly decluttered home! In the updated living room, the reduced collection of eclectic items now has a chance to stand out, rather than being caught in the mess of clutter. The carpet has been replaced with beautiful floorboards, and the interesting wall ladder was painted to blend in with the room better. Angie even set out a polished silver bowl that was from David's grandmother, allowing the antique piece to be featured rather than hidden away in storage! In David's office, his desk has been extended to span across the wall, allowing tons of space for him to work comfortably. With all the clutter cleared out, there is room for the sofa bed to be pulled out for guests easily! Thanks to the help of 1-800-GOT-JUNK? and the Space Invaders team, Luke and David are eagerly looking forward to the rest of their life today, stating proudly, "the future is us, and the future is here".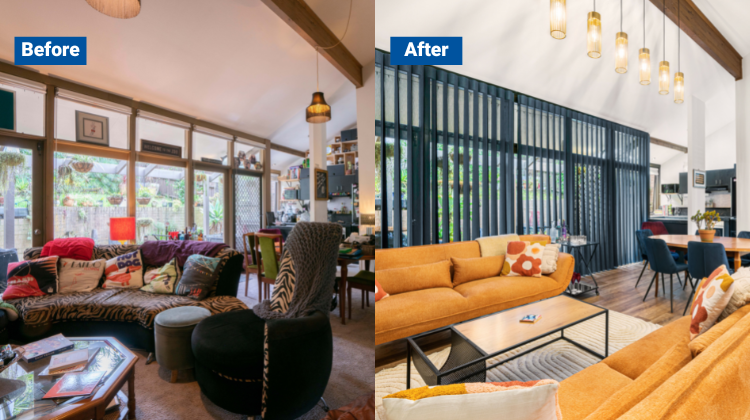 6. Holly and Darren
The demands of parenting have left Holly and Darren at breaking point and their home in chaos. Their living room is covered in clutter and toys from their two kids, their bedrooms are overwhelmed with stuff, and on top of it all, their bathroom and kitchen are both extremely outdated. Darren has even been sleeping in the guest bedroom, since Holly has been co-sleeping with the kids, which has made it difficult for the couple to find time for each other. As they begin to clear through their items in a nearby warehouse, Holly and Darren struggle to communicate with each other, as they are worried about upsetting one another. To help push through this communication barrier, Peter has them do an exercise where they remember why they fell in love, and help them focus on putting themselves first in order to help their family. Remembering their shared goal and love for each other, they begin to declutter quickly and efficiently.
As soon as the Space Invaders trio stepped foot in Holly and Darren's home, Cherie knew she had quite a lot of work ahead of her. Over the course of three days, Cherie does a huge renovation, completely updating everything from the kitchen to the bathroom to the bedrooms. She even knocked down a wall in the process! Cherie's renovation team raced against the three day finish line, making it all the more important for 1-800-GOT-JUNK? to hurry in and clear out the construction rubbish. Our team moved quickly, loading the items expertly into the back of the truck and hauling it away, so Cherie could focus on the final finishing touches of the home renovation.
Back at the warehouse, Peter reveals that Holly and Darren were able to downsize their clutter from 128 boxes to only 39 boxes! However, it's the final look of their newly decluttered home that is the true star of the show. Their living space has now been transformed, turning it from a kid's toy space to a relaxing space for Holly and Darren's family, and even adding in a dining area. In the kitchen, Holly and Darren are shocked with the new cabinets, tiles, counters, and appliances, with tons of space for cooking for their family. The bathroom has new floor tiles, and the kid's room has been updated so both the kids can sleep in there. Holly and Darren's room was updated to be more inviting, and allow the couple to have the ultimate parent's retreat. Throughout the house, Angie helped create plenty of storage for toys, including a revamped "Wishing Well" box Holly and Darren received for their wedding to create a toy storage box, as well as re-engineering a shoe organizer to hold more toys. With all the clutter finally gone and properly organized, they can concentrate on the most important thing of all: being together as a family.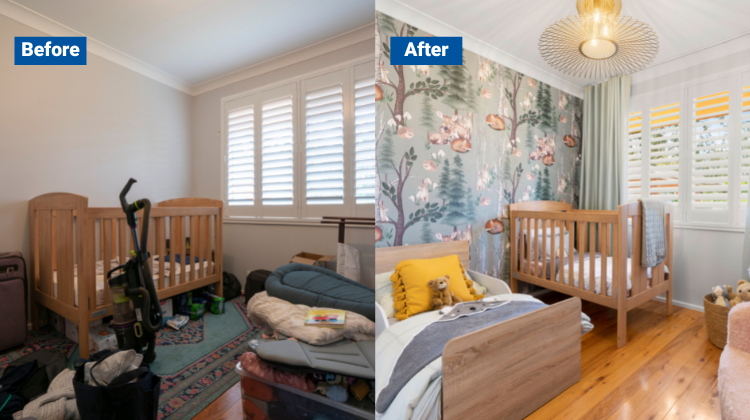 7. Silvana and Jose
Silvana's clutter is causing conflict in her household, and making it difficult to have friends and family over. It soon becomes clear to Peter that part of Silvana's clutter problem is that she struggles with letting go of items due to growing up with almost nothing. She wants to help people just as she was helped as a child, often by taking in items people no longer want so she can hopefully donate them to those in need. Not only that, but she likes to be in control, making it difficult for her kids, Christian and Christina, and her husband Jose, to help around the house. While clearing out their unwanted items in a nearby warehouse, Peter pushes her to let go of the past, and encourages her to let others help her, even if it's not in her exact preferred way. Silvana takes in the advice and works together intently with her family to clear the rest of the clutter.
Back at Silvana's home, Cherie is working diligently on upgrading the living room and spare bedroom, which were originally filled with clutter. After completely modernizing the rooms from their original 1980's designs, it came time to clear all the renovation rubbish. 1-800-GOT-JUNK? quickly came in, hauling away construction rubbish with a smile on their face. The speedy and efficient team cleared out all the remaining debris, so Cherie and the team could focus on the finishing touches and putting the items Silvana had decided to keep in their proper place. 
Even with the items that Silvana and her family decided to keep, they still managed to clear out an enormous amount of clutter, going from 152 boxes down to 45 boxes, and donating the equivalent of almost $8,000 AUD to charity! Excited from helping so many people in need, it was time for the family to see the renovated house. The living room had been renovated with plenty of storage, and is now spacious enough for hosting large family gatherings. Angie shows off a unique hula hoop memory frame she created, along with the repurposed DVD storage that she transformed into a small bar celebrating Jose's Mexican heritage. The spare room was completely cleared of clutter, and Cherie made it into a welcoming bedroom to host both Silvana's mother and granddaughter, with both a large bed and baby cot nestled perfectly into the space. 
Now there is plenty of room for the family to enjoy the company of each other, and welcome others into their home as well. In the process of decluttering with Space Invaders, Silvana learned to let go of control and allow others to help her for a change, in order to spend more time making wonderful memories with her loving family!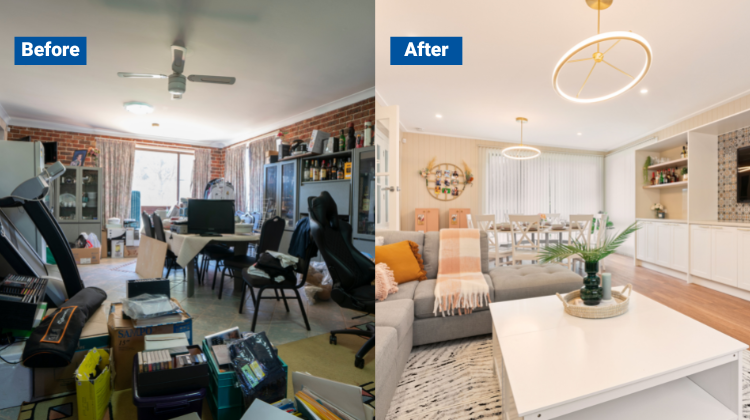 8. Nina and Dom
With three kids and critical healthcare jobs, Nina and Dominique's home has become consumed by clutter. There are items piled along the walls, stuffed in all the drawers, and even stacked in the attic. One of their kids, Lucien, has to store his clothing in the living room since there is so much clutter taking up space in his bedroom. Peter gives Nina and Dom a wake-up call on how this is impacting their children, by having the kids, Lucien, Sophie, and Molly, share how all the clutter makes them feel: cramped, depressed, and lonely. With Peter's help, they address the reasons that have led their home to be filled with items, and work to clear out all of the unnecessary clutter.
In the now-decluttered home, Cherie rips apart the kitchen and takes out one of the walls to create one big open space between the kitchen and living room. She also connects with Angie to plan out Lucien's bedroom, ensuring the colors used are purposeful and blend seamlessly with the rest of the house. Cherie and her team work quickly to finish all of the construction work, and then call in 1-800-GOT-JUNK? to clear the leftover rubbish. Our 1-800-GOT-JUNK? team in Australia arrives swiftly, and begins clearing the rubbish quickly. Within no time, the construction debris is all cleared out, and it's time to add in the finishing touches inside!
It's time for the big reveal: Nina and Dom were able to bring down their record breaking 381 boxes of stuff, to only 64 boxes of items to bring back to their house! Back at the house, Nina and Dom are shocked to see the changes made by Cherie. The living room is open and bright, and the kitchen has been updated with new appliances and tons of storage. Hanging proudly on the wall are Nina's field hockey medals and jerseys that Angie found hidden away in the attic. Lucien's room has been updated so he can now store his clothes and relax in his own bedroom. With their newly spacious home, Nina and Dom are excited to move forward and build a better future for them and their kids.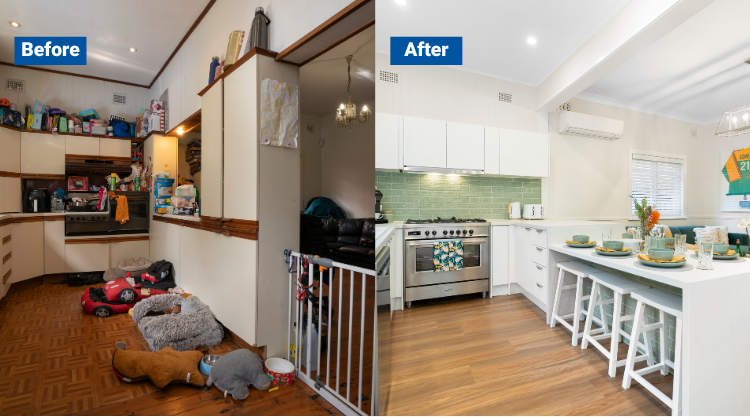 9. Two-House Special
For the first time ever, the Space Invaders team tackle two neighboring homes that are jam-packed with clutter! The first family is Penny, Jamie, and Penny's mom Carol. Carol has down-sized from a 3 bedroom home to move into a small "granny flat" in Penny and Jamie's backyard, in order to help support them through a recent medical diagnosis. She has been staying inside the house with the rest of the family, because the "granny flat" is completely filled with boxes and clutter from her previously large home. Next door, Emma and Julian are dealing with an overly cluttered spare room, which has been overtaken by toys and various items the family has struggled to get rid of. With double the homes to declutter, it's time for the team to get to work!
Starting at Emma and Julian's home, Peter facilitates an "express declutter" by moving all the items in the spare room to the backyard for a speedy declutter session. The couple quickly gets in the groove of decluttering, and is able to not only clear out all the unwanted items within no time at all, but they were also able to find some precious items that they can frame in honor of the memories they bring.
Facing a much larger clutter problem, Penny and Carol head to a nearby warehouse to sort through all of the items. It quickly becomes clear that Carol is struggling to let go of anything, worrying that she may need it one day. Peter encourages her to remember that she's down-sized to help her family, and that clearing the clutter will only help them all further. In the end, they were able to reduce the amount of items Carol had from 103 boxes down to 29 boxes!
Back at the houses, Cherie faces double trouble running both renos at once. Quickly switching between each place and making sure it's all running smoothly, Cherie calls in 1-800-GOT-JUNK? to handle all the rubbish removal for her. Our team was happy to take on the challenge, and quickly began hauling away all the construction debris and leftover rubbish. With 1-800-GOT-JUNK? handling all the rubbish removal work for her, Cherie has all the extra time she needs to finish the two renovations.
Now it's time for the double reveal! Starting with Emma and Julian, they are ecstatic to see their newly created office space. With tons of light, storage, and open space, Julian will be able to comfortably work and relax in his own home! In Penny's backyard, she and Carol are shocked to see the new relaxation space that Cherie has created outside. Angie upcycled a vintage bath as a pond, and turned Carol's unused bicycle into a gorgeous backyard decoration. Their disbelief continues as they walk into the "granny flat" and see the gorgeous bedroom, and completely updated kitchen with plenty of storage. With the help of 1-800-GOT-JUNK? and the Space Invaders team, both of these families are now able to focus their attention on the love and community spirit in their neighborhood!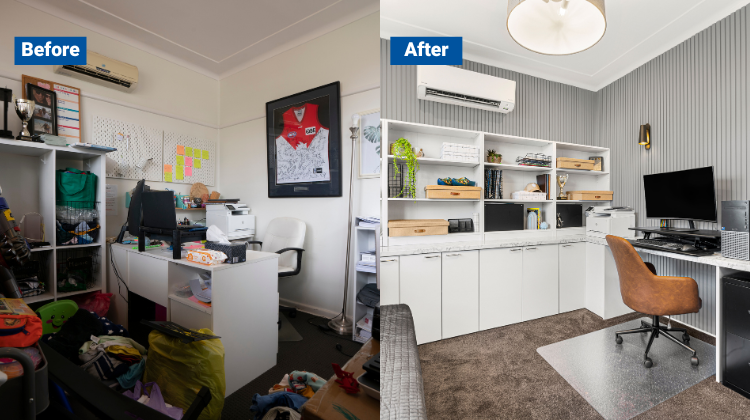 10. Georgina and Nathan
The team take on their biggest job ever, after an abandoned reno left Georgina and Nathan's home in ruins and full of clutter. The kitchen is overflowing with baking supplies for Georgina's business, the bedrooms are filled with clutter, and the bathroom needs to be completely gutted. To get started, everything is packed up from the house and taken to a nearby warehouse for Georgina and Nathan to declutter. Once they begin the process of getting rid of their unnecessary items, it becomes very apparent to Peter that the couple struggle to communicate effectively. Peter pushes the struggling couple to open up, reminding them that not being clear in what they need just contributes to the emotional clutter in their home. With the help of Peter, Georgina and Nathan open up to each other and successfully clear through their emotional and physical clutter!
At the house, Cherie has been working diligently on this huge six-bedroom renovation, dealing with everything from asbestos, to termite damage, to rusted metal sheets. With the help of her team, Cherie was able to push through all the issues, and finished the renovation just in time! A huge renovation like this often comes with tons of construction rubbish, so Cherie called in 1-800-GOT-JUNK? to expertly haul away all of the trash! Within no time at all, our team cleared out all the non-hazardous renovation rubbish, so Cherie could focus on the final finishing touches before Georgina and Nathan arrived.
Back at the warehouse, Georgina and Nathan find out that they were able to declutter tons of items, going from 194 boxes down to 41 boxes! The only thing more shocking than the amount of clutter they cleared out, is the stunning renovation from Cherie. Georgina and Nathan are ecstatic to see the bright, storage-filled living room and the organized kitchen, complete with a re-purposed baking cart made by Angie. The bathroom is entirely rebuilt and waterproof, and the laundry room is completely re-done with new tiling and a door. The bedrooms have been fully decluttered and re-decorated, making them sanctuaries for the family to have their own spaces. To finish it all off, Angie presents Georgina with her re-sized wedding ring, so she can finally wear it again and the couple can feel more connected. Now with a fresh start, this family can focus on what's most important: spending quality time together!
Image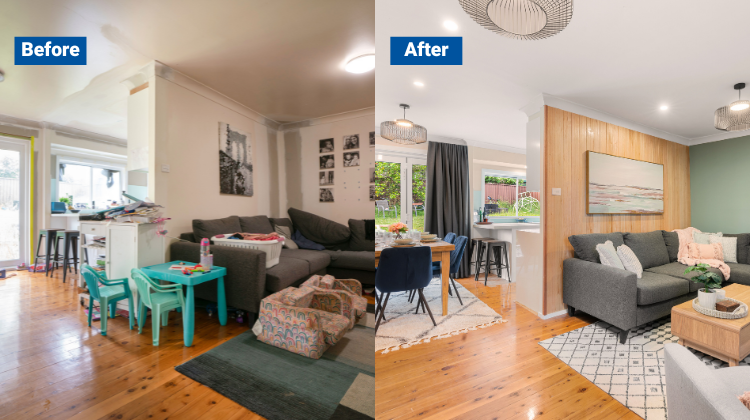 To watch full episodes of Space Invaders, visit 9Now, and keep revisiting these episode recaps whenever you need to feel inspired!
As Peter Walsh says best, "Clutter is anything getting in the way of the life you want." If you're inspired by these transformations and want to love your home again, getting rid of the clutter with junk removal is a great place to start. 1-800-GOT-JUNK? can help clear out your unwanted items so you can envision the full potential of your space.
Are you ready to clear the clutter from your life?
We make junk disappear.
Image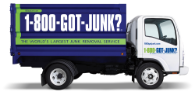 No obligation, in person quotes.
Quick and easy onsite payment.
No hidden fees.
Responsible disposal.