1-800-GOT-JUNK? teams making a difference
Image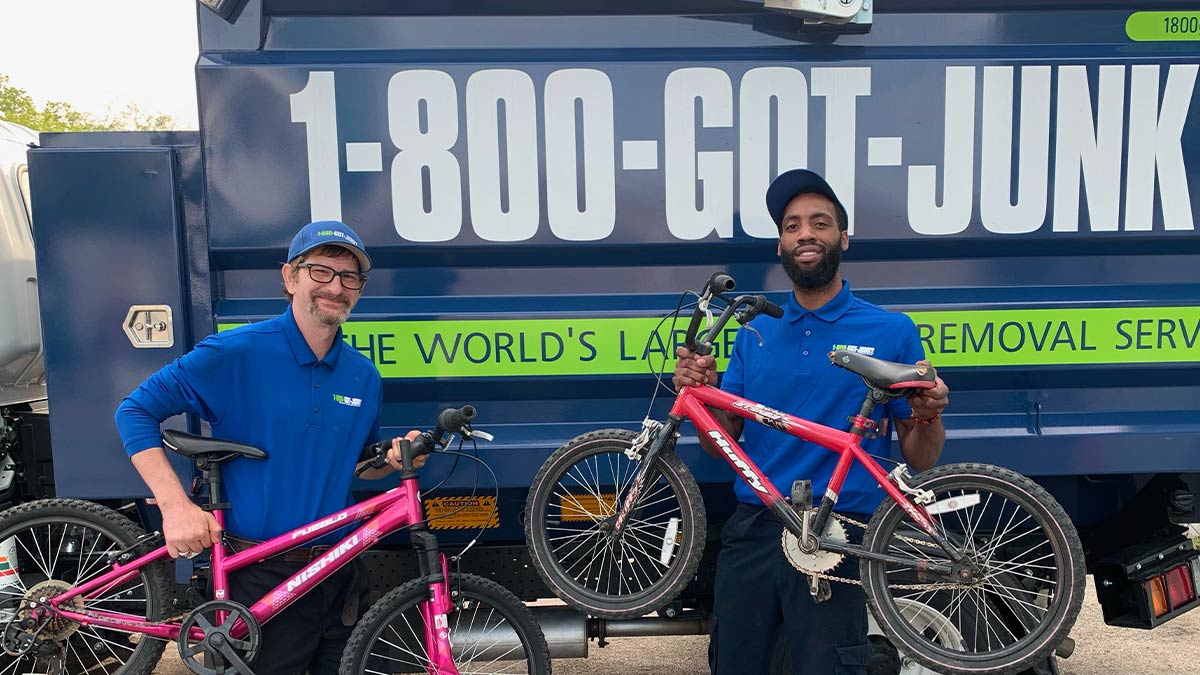 Have you ever wondered what we do with all the junk we collect? When decluttering and clearing out unwanted items, it's becoming more important everyday to think about where those items might end up once you get rid of them. At 1-800-GOT-JUNK?, we recycle the recyclables and donate the donateables as a way to divert items from the landfill. Across the United States, Canada, and Australia, our franchises work with a variety of different organizations to ensure they're supporting their local communities. Whether it is donating quality items or hours of their day, these 1-800-GOT-JUNK? teams are making a difference in their communities.
1-800-GOT-JUNK? donations and making a difference
With over 160 franchise locations, each franchise has their own unique way of giving back to their communities. Keep on reading to find out what happens to the items collected, as we highlight just a few of the many 1-800-GOT-JUNK? franchises who are supporting their local community with their donation initiatives!
1-800-GOT-JUNK? Monteregie Metro - Certex
Sometimes while providing junk removal services, our teams will find items like clothing, shoes, and more in great condition. Rather than take these items to the landfill, we do our best to donate them where possible. 
The Monteregie Metro team works with the organization Certex to ensure clothing in good condition is given a second life. Certex is a clothing donation center and a thrift store in Saint-Hubert, supporting their local community through diverting clothes from the landfill.
1-800-GOT-JUNK? Foxboro - Mansfield Public Library
Books are another common item that our teams will see while on the job. Whether you've downsizing or just clearing up some shelf space for new books to take their place, it can be hard to say goodbye to a beloved story and not be sure where it will end up. 
The Foxboro team recently found bins full of books while on a job, and wanted to make sure they were being passed along to another lucky owner. Eager to make a difference, Truck Team Members Alex and Paul donated the books to the local public library. Another day, another adventure for these books!
Image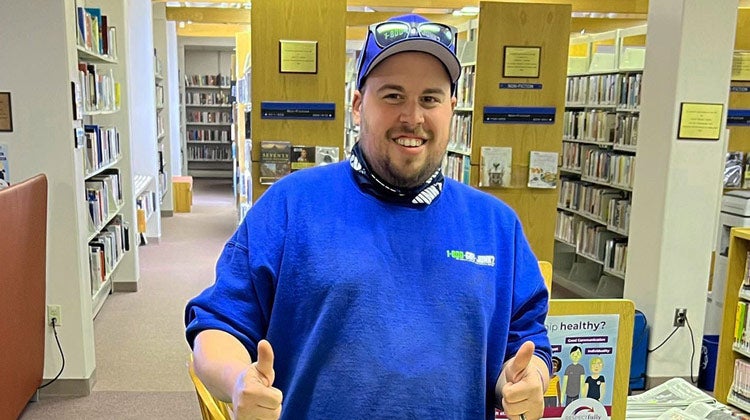 1-800-GOT-JUNK? Vancouver Metro - Ride On Bike Shop
Have you ever wondered what might happen with that old bicycle collecting dust in your garage when you get rid of it? If it's rusted or broken, it may be tough to imagine donating it to someone else. For a couple 1-800-GOT-JUNK? locations, they wanted to make sure these bikes were getting a second life. 
Our Vancouver Metro team connected with a local shop, Ride On Bike Shop, to donate some unwanted bicycles they received as a way to divert them from the landfill. The shop was able to repair the old bicycles, and get them into the hands of those in need!
1-800-GOT-JUNK? Philadelphia - Neighborhood Bike Works
The Vancouver Metro team isn't the only one who wants to make a difference when it comes to bike donations. Our Philadelphia team set out to do something exceptional for their community and donated over 40 bikes to Neighborhood Bike Works, a local non-profit! This organization inspires youth and strengthens Philadelphia communities by providing equitable access to bicycling and bike repair through education, recreation, leadership and career-building opportunities. They run completely on bike donations, and our Philadelphia team was happy to support them and their mission.
Image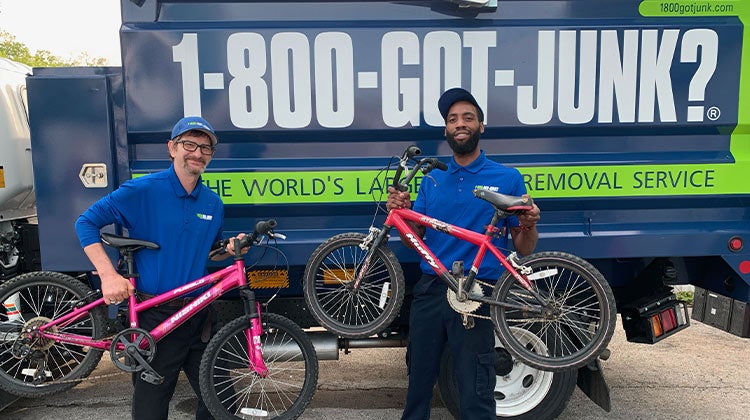 1-800-GOT-JUNK? Jefferson County - Colorado 1000
Donating has always been a priority for the 1-800-GOT-JUNK? Jefferson Country franchise, as they typically donate and recycle 60% of what they haul away each year! The team even opened their own non-profit thrift store, Humanity's Treasure, where they can bring all the donatable items they haul away on the job.
All proceeds from Humanity's Treasure are donated to Colorado 1000, an organization that distributes all of its donations to local Colorado charity organizations! Not only do they donate the proceeds from their non-profit thrift store, the team also donates $1 from every junk removal job to Colorado 1000 as well! In the last half of 2021, 1-800-GOT-JUNK? Jefferson County was able to donate $9000 to Colorado 1000, who was able to use the donation to support people experiencing homelessness in Denver. We can't wait to see what local charity they are able to help next!
1800-GOT-JUNK? Melbourne - St. Kilda Mums
Donating items is just one of the many ways that our Melbourne team supports their local community. When it comes to clothing, furniture, and more, they have donated some goods to St. Kilda Mums, an organization that recycles, sorts, checks and repackages nursery goods/equipment to new families. However, providing donations is not the only way that the Melbourne team is able to support them.
St. Kilda Mums relies on donations from the public or companies, and they will often receive goods that cannot be recycled or reused easily, and that's where 1800-GOT-JUNK? fits in! The team is able to help support St. Kilda Mums' cause by providing our junk removal service to get rid of their hard rubbish which is then recycled at the Melbourne franchise's sorting depot.
Don't just take our word for it! Yvonne Clarnette, the Operations Coordinator from St. Kilda Mums, said, "Since working with 1800-GOT-JUNK?, we have been able to change the way we manage our waste for the better at St. Kilda Mums. The 1800-GOT-JUNK? team has been nothing but reliable, prompt, and easy to communicate with for all collections…. we can not recommend 1800-GOT-JUNK? highly enough - we love them!"
Image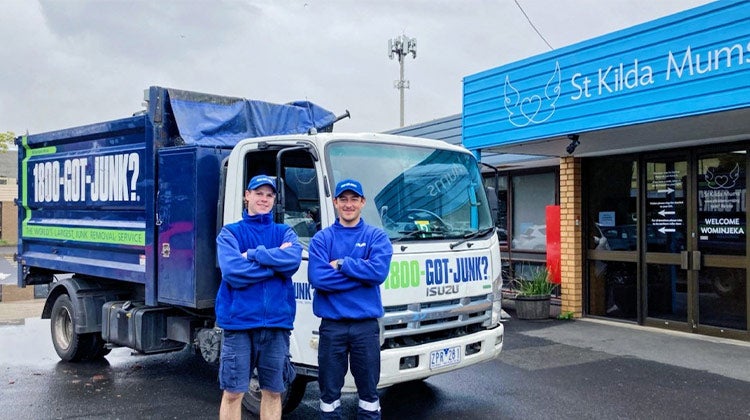 1-800-GOT-JUNK? Greater Los Angeles - Midnight Mission
Donating items is not the only way that 1-800-GOT-JUNK? franchises give back to their community! Sometimes, the best way to make a difference is by donating the time to volunteer at local organizations in their neighborhood. 
In May 2022, the Greater Los Angeles team members and their families volunteered their time to make meals for people experiencing homelessness. The meals that the local team helped prepare were delivered to the Midnight Mission in Downtown Los Angeles, an organization that supports people experiencing homeless, who then distributed the prepared meals. By the end of the day, the Greater Los Angeles team helped deliver 500 meals to their local community. Way to go Greater LA!
Image
1-800-GOT-JUNK? Philadelphia North - Soles4Souls
What do you do when you've grown out of a pair of sneakers and no longer wear them? Rather than simply tossing them into the garbage, 1-800-GOT-JUNK? Philadelphia North, along with some other franchises, have paired up with the organization Soles4Souls to ensure they are donated.
Soles4Souls is a nonprofit that collects unwanted shoes and clothing to make a measurable impact on people and the planet. In 2022, the Philadelphia North team sponsored a Soles4Souls shoe drive, helping a young teen in the community collect shoes. Not only was the team able to help by sponsoring the shoe drive, they were also able to load all of the shoes into the back of the truck and transport them for the organization. We really can haul away almost anything!
1-800-GOT-JUNK? New Jersey Northeast - Second Chance Toys
Shoes aren't the only items that our team will support when it comes to local collection drives. In April 2022, the New Jersey Northeast team participated in an Earth Month Toy Drive with the organization Second Chance Toys. 
Our team was able to load up their trucks with cleaned and packed plastic toys, and deliver the toys to their new home with local kids. All in one day, 4,500 pounds of plastic waste diverted from landfills and 1,000 toys delivered to deserving kids. That's an awesome way to celebrate Earth Month!
When asked about the partnership with 1-800-GOT-JUNK?, Zoe Cook-Nadel, the Director of Second Chance Toys, said, "Over the years 1-800-GOT-JUNK? has and continues to be so close to the heart of the Second Chance Toys mission… Truck Team Members and managers are always so eager and excited to participate in our toy drives, taking care of the lifting and transportation of thousands of pre-loved toys, delivering them directly to kids in need the same day. We couldn't possibly divert this much plastic from landfills without 1-800-GOT-JUNK?'s constant support, spacious trucks, and true devotion to the state of our environment."
Image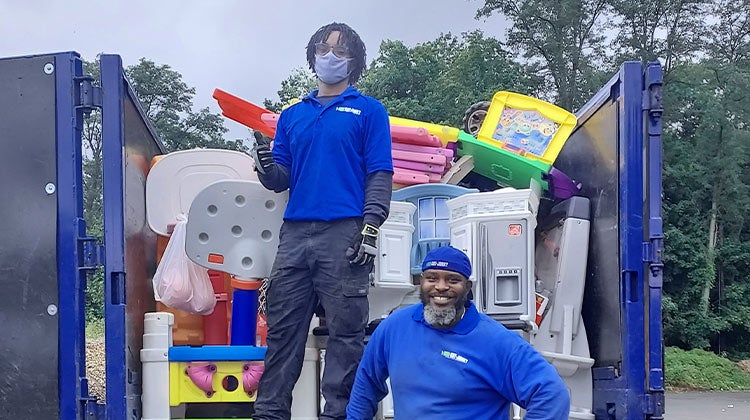 Whether it's donating well-loved items so they can find a new home, or simply volunteering their time to support their community, our 1-800-GOT-JUNK? teams are always looking for ways to make a difference. Their initiatives support local organizations, and ensure that items like clothing, toys, bikes, and more are being diverted from the landfill and given a second life.  
If you're ever unsure of where to donate or recycle your unwanted items, let 1-800-GOT-JUNK? handle all the work for you! Schedule your free no-obligation estimate today!
We make junk disappear.
Image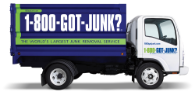 No obligation, in person quotes.
Quick and easy onsite payment.
No hidden fees.
Responsible disposal.