18 recycling tips for college students
Image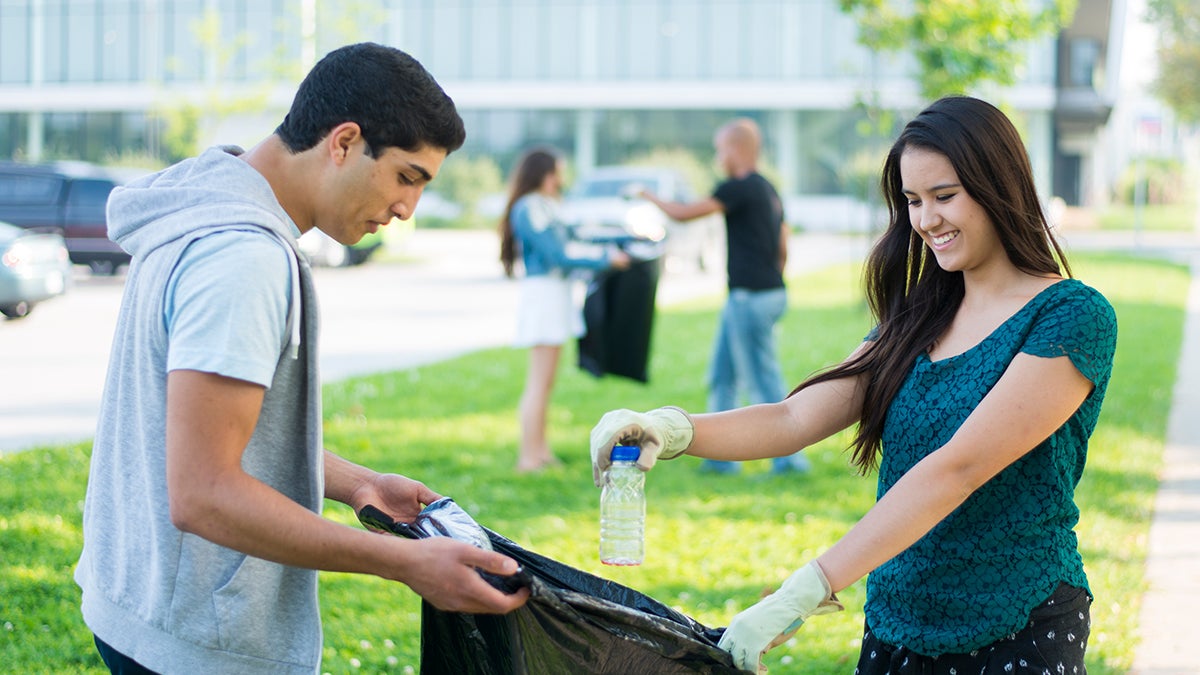 If you've ever wanted to make your university campus a greener, more environmentally friendly place, it can start with you! By following the three R's, reduce, reuse, and recycle, you can make a huge impact on your individual environmental footprint.  
One of the best ways to level up your environmental practices is to minimize the amount of things you buy to help reduce the waste you create. For the items that you need to get, you can consider buying second hand, but always make sure you recycle or donate an item when it has reached the end of its lifecycle. Keep reading for more easy ways you can keep your college green, why campus recycling is beneficial, and how you can involve companies like 1-800-GOT-JUNK? to make the process easier!  
Benefits of recycling at college
If you're on the fence towards taking on new environmental practices, here are just a few reasons why recycling can benefit your university in the long run. They may just even convince you to take action!
Reducing the amount of waste created helps keep your university pristine! Overflowing trash cans not only are an eyesore, but they can also be a health hazard. 

Consistent recycling helps improve the effectiveness of your college's environmental program, while reducing the amount of complaints it receives. 

By incorporating the 3 Rs, you reduce the amount of waste sent to a landfill or incinerator, both of which contribute negatively to climate change.

What is learned in school can often shape your behaviour as an adult. By incorporating recycling practices now, you'll develop a habit that is beneficial for the environment for years to come.
Oftentimes people shy away from recycling because they are unsure of how to do it. If you need some help knowing how to recycle certain items, you can refer to our recycling codes guide. For a quick overview, here is a list of commonly recycled materials:
Organic materials

Glass bottles

Aluminum cans & scrap metals

Paper

Old electronics

Clothes & shoes

Furniture
How to reduce waste on college campuses
With these 12 easy tips to improve your environmental practices at college, you'll be a sustainability expert in no time! Not only will you feel better about your contributions, but your campus and community will benefit as well.
Image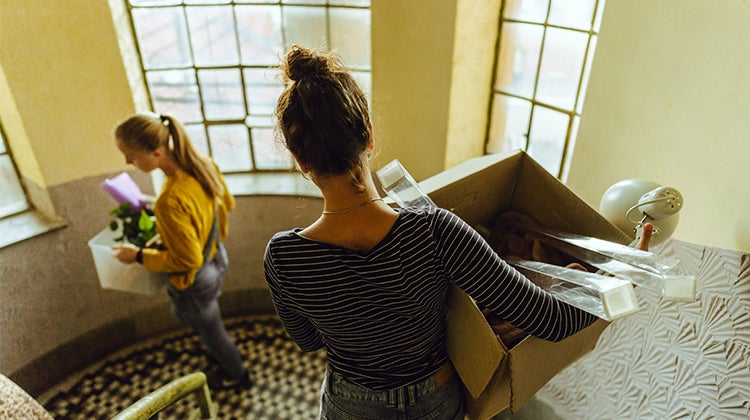 1. Switch to electronic textbooks
If you have a Kindle or iPad, consider purchasing your textbook online. Since there is new course material every semester, going electronic helps reduce the amount of old textbooks that get tossed out. As a bonus, you'll always have access to the content and don't have to worry about lugging around a bunch of heavy textbooks.
2. Go green when it comes to packing and moving
Instead of buying big plastic containers or new cardboard boxes to move your items in or out of your dorm, hop into your local warehouse or grocery store to see if they have any old boxes that you could reuse. When sealing your boxes, consider using paper tape, instead of packing tape, as it is 100% recyclable. To cushion fragile and high value items during your move, swap out bubble wrap for bedding or clothing. Not only is it an eco-friendly option, but it saves you space since you'd have to pack those items anyways!
3. Buy second hand items from local ads
Since dorm rooms or apartments are likely a temporary arrangement, consider helping the environment while saving money by purchasing second hand items or furniture. There's no point in investing in a brand new item that you know you won't need in four years time.
4. Embrace minimalist dorm design
Instead of filling up your dorm room with unnecessary items and decor, go minimal! This makes moving at the end of the year much easier and helps reduce waste going to the landfill. 
5. Use natural materials over plastic items
Items such as plastic storage baskets or waste bins increase the amount of non-biodegradable waste, as you'll need to toss them out eventually. Instead, opt for non-plastic materials such as metal or wood, they are often more sturdy too!
6. Set yourself up for recycling success
Instead of having to walk to a designated bin when you need to recycle, make it easy for yourself by creating a dedicated recycling area in your room. This doesn't have to be anything special - it could be an old bin or even a cardboard box that you can easily toss recyclable items in. 
7. Buy non-disposable dishes and cutlery
Avoid using paper plates or plastic cutlery when possible. Instead, get a set of proper cutlery and dishware or glass containers. Not only does it feel better eating food from a proper bowl, but it also helps reduce the amount of waste that ends up in the landfill.
8. Buy your favorite snacks or food in bulk
Instead of styrofoam cups of noodles and plastic granola bars wrappers, consider items from the bulk section of your grocery store, fresh fruit, or homemade alternatives. You can store these in recyclable glass containers too!
9. Bring your own reusable cups to events
Instead of ending up with piles of plastic red cups at the end of a big student gathering, consider getting your friends to bring their own reusable cups, such as mason jars or their favorite mug. 
10. Pack yourself a "zero waste" backpack
If you bring reusable cutlery, a water bottle, and a small container in your backpack, it will help you avoid using plastic, single use alternatives. With this small proactive step, it's easy to be environmentally friendly and not even think about having to recycle around the campus!
11. Opt out of receiving unnecessary promotional items 
There can be a lot of advertising on campus and at school fairs where you may be offered freebies such as shirts, plastic accessories, or flyers. While it may be tempting to say yes to all these items, you may find yourself struggling to use them in the long run. Think about how much use you'll get from a promotional item before saying yes - this helps reduce the chance of that item ending up in the landfill!
12. Get rid of your items responsibly
While adopting a sustainable lifestyle it's nearly impossible not to throw some items away. When you do throw items away, make sure you do it responsibly by recycling or donating what you can. If you're too busy to dispose of items properly, you can call a professional junk removal company like 1-800-GOT-JUNK?. They'll recycle and donate whenever possible, helping keep your campus green.
Waste management tips for your university campus
In addition to recycling and reducing waste at the individual level, there are some larger initiatives you can take part in to help make an impact across your entire campus. Here are seven ways you can help improve your school's recycling program and get professional junk removal companies, like 1-800-GOT-JUNK?, involved.
Image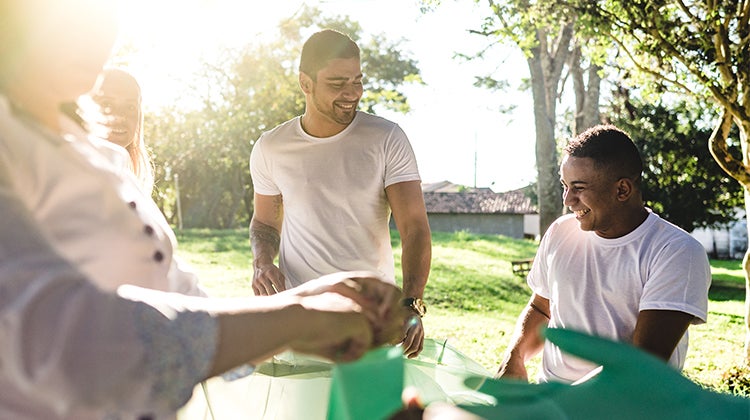 1. Audit the existing waste management practices 
To set yourself up for success, you first need to take a look at your college's current recycling program and see if they have an existing recycling policy in place. Next, figure out how waste is collected and if there are any current  governmental regulations affecting what materials your university should recycle. Lastly, you'll want to identify recycling hot spots where waste gets left the most, these locations should be your focus areas. Some hot spots might be libraries, sport stadiums, cafeterias, or break rooms. Knowing this information should give you a good starting point to make improvements!
2. Get your school's custodial team on board
It only makes sense to reach out to the custodial team on campus to collaborate with them on recycling efforts. Together, you can decide on how to tackle hot spots or even ask  them for advice on which areas of recycling should receive the most attention!
3. Standardize recycling bins and labelling
To encourage everyone on campus to recycle, you should aim for consistency by using the same bins, labels, and graphics across your whole campus. This also helps students and staff make the right choice when deciding which bin to put their waste in. 
4. Get competitive with recycling, make it fun!
Encourage students and staff to take ownership of their campus's recycling program.  Consider holding recycling competitions, like the University of Winnipeg, by holding contests where students can win prizes for recycling. 
5. Start your own green team 
Just like how there are chess clubs and sport clubs on your campus, why not start an environmental club? This enables you to scale recycling efforts, especially if you have a large campus. Your green team can help with different recycling initiatives and spread the word on any updates or competitions going on, by distributing flyers or through social media.
6. Coordinate a professional junk removal service
When it comes time to move out of your dorm, most students have accumulated items throughout the year that they no longer need. Instead of tackling this project individually, work with the school to organize a group junk removal service by 1-800-GOT-JUNK?. This group junk removal service can be organized around a central drop off point, where students across campus can bring their unwanted items. Not only is this a more cost effective option than individual appointments, but the team at 1-800-GOT-JUNK? make it fast and easy, while donating and recycling when possible!
If you're ready to kickstart your college recycling program and clean out some of the waste on campus, give 1-800-GOT-JUNK? a call!
We make junk disappear.
Image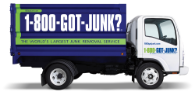 No obligation, in person quotes.
Quick and easy onsite payment.
No hidden fees.
Responsible disposal.