How to get rid of old appliances
Image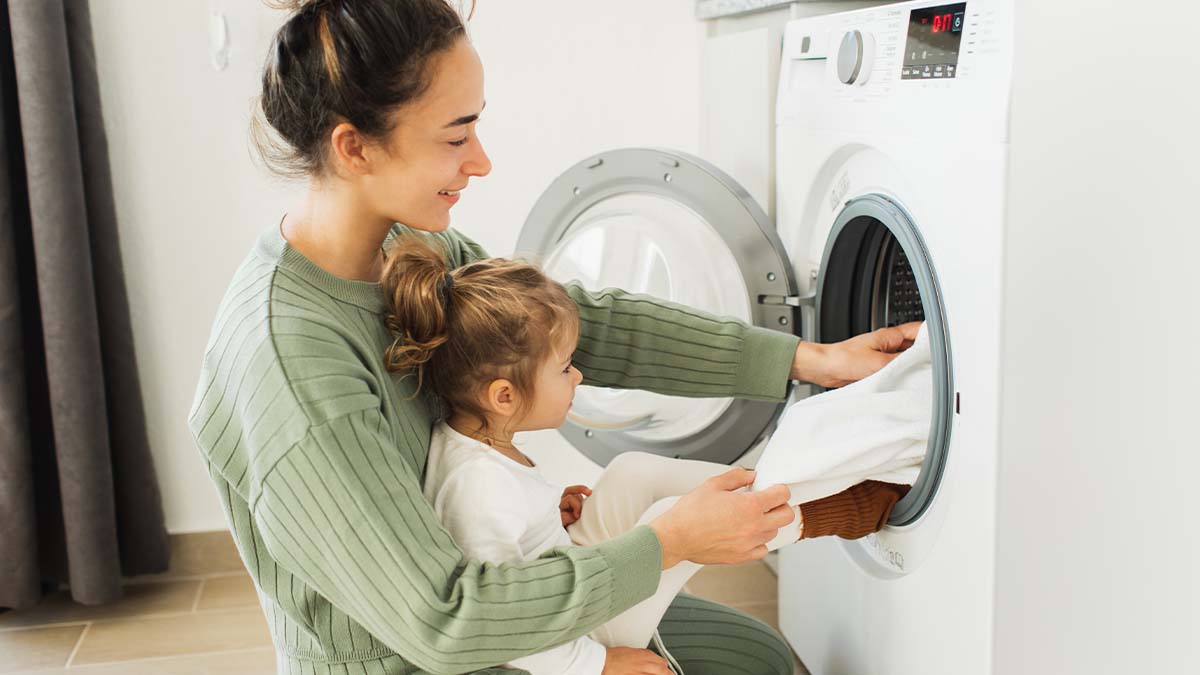 Getting a new appliance, from a microwave up to a refrigerator, is always a thrill. However, that plus always comes with a minus: what to do with old appliances that you're replacing.
When it comes to getting rid of old appliances, many people may not know where to start. We wouldn't recommend throwing appliances away in the trash, as it can be harmful to the environment and is often illegal due to hazardous materials. The Environmental Protection Agency says that 1.6 million dehumidifiers, 6 million window air conditioning units and 11 million refrigerators and freezers are disposed of annually in the United States.
Our team of junk removal experts created this guide with some ideas to help you donate, scrap or recycle appliances. Here's what to know about the dangers of old appliances and how to dispose of old appliances safely and responsibly. Remember you can always call 1-800-GOT-JUNK? and we will do it all for you!
Why you should get rid of old appliances responsibly
New appliances are more energy efficient and environmentally friendly. In recent years, they've displaced appliances that have harmful materials in them. Disposing of these older appliances is important to prevent these toxic materials from leaking out. If improperly disposed of, they can:
Release hazardous substances such as mercury, used oil, and polychlorinated biphenyls (PCBs)

Let off greenhouse gases, such as carbon dioxide, methane, and water vapor

Leak ozone-depleting substances, which are often found in refrigerants and insulating foam.
Prevent all these dangers by discarding old appliances properly, or hiring junk removal experts that will dispose of your old appliances in compliance with local guidelines. Here are some ideas you can use. 
Image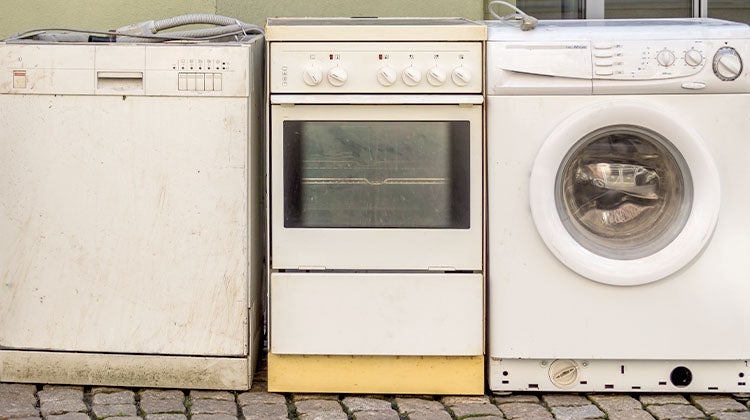 7 ways to dispose of old appliances
Our team of junk removal experts have compiled seven different ways for you to properly dispose of old appliances. Whether you have a small microwave or a large washing machine, it's important to make sure you're getting rid of them in the best way possible.
1. Sell or donate
If your appliances are still in good condition and can be reused, consider selling or donating them. You can list them for sale on online sites like Craigslist or Facebook Marketplace or donate them to a local charity or non-profit organization such as the Salvation Army, Habitat for Humanity's ReStore, or Goodwill. This not only prevents the appliance from going to waste, but it also gives someone else the opportunity to use it. Don't sell or donate inefficient or broken appliances. Old or damaged appliances can use too much energy or create unnecessary emissions.
If you don't have the time or the means or don't know how to lift or carry heavy items to donation facilities, our team of experts can come and do all the heavy lifting for you. 
2. Use it for trade-in
Many retailers offer trade-in programs for old appliances. Some stores offer a discount on a new appliance in exchange for the old one. This not only gets rid of the old appliance in an eco-friendly manner but it also provides a discount on a new one. Before buying your new appliance, check to see if this is available at your local retailer.
3. Call your waste facility
Contact your local waste management facility to find out if they offer a bulky item pickup service. Many communities have programs where residents can schedule a pickup for large items like appliances. 
If you have a city trash service, look up the website to see what services they provide. You may be able to leave these appliances at the curb, although the city may charge you an extra fee on your monthly bill. Check to see if your city offers bulky trash days, where they will pick up your appliances and other large items for free if you meet certain conditions. 
In the case of your local waste management facility not being able to help, give us a call and we will send a clean truck with two friendly junk removal experts that will happily do the job for you. 
4. Contact a utility company
Utility companies in most states offer appliance recycling services on their own or through government programs. By using this service, you can often get a refund, waiver, tax credit, or even cash. Be aware that utility companies typically only accept freezers and refrigerators. They might also accept heating or cooling units if you make arrangements to have them picked up at the same time as other appliances.
Image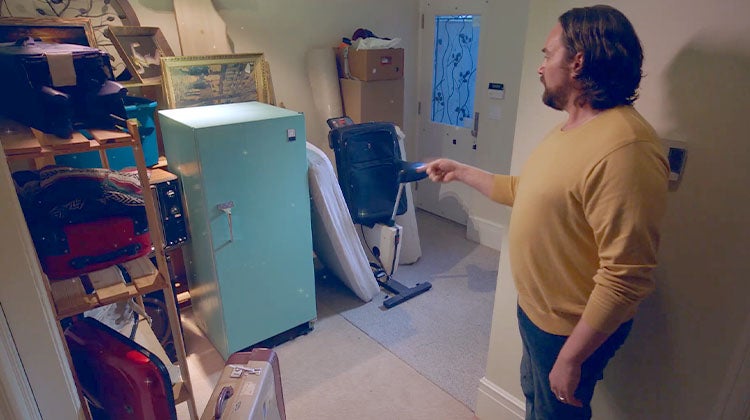 5. Hire a professional
Calling a company that specializes in appliance removal and disposal is often the easiest and most eco-friendly option. These companies will pick up the appliance from your home, ensure that it is disposed of properly, and often recycle the materials.
1-800-GOT-JUNK? will take your old appliances without any difficulty for you. We'll do our best to recycle the appliance for you, responsibly and safely. All appliances picked up by 1-800-GOT-JUNK? capable of being recycled, reused, or reduced are brought to the proper processing facilities when possible, at no extra cost to you. If you are concerned about the cost of removing your unwanted items, 1-800-GOT-JUNK? will do a free no-obligation estimate. For more information about appliance removal, visit our appliance removal page. For more detailed information about pricing, visit our pricing page. 
6. Consider appliance recycling
If the appliance cannot be reused, consider recycling it. Many recycling centers accept appliances for recycling, and some may even offer pickup services. Recycling an appliance helps to reduce waste and conserve natural resources. According to the EPA, recycling helps recover aluminum, ferrous metals, glass, plastics, rubber, and other nonferrous metals such as lead and copper.
7. Scrap it for parts
Haulers will remove old appliances and sell any valuable parts from these machines. This "bounty" option pays you for the ability to pick up your old units. You'll be paid for the steel and iron that can be recovered upon disposal. Other valuable materials may also be harvested from old appliances.
Image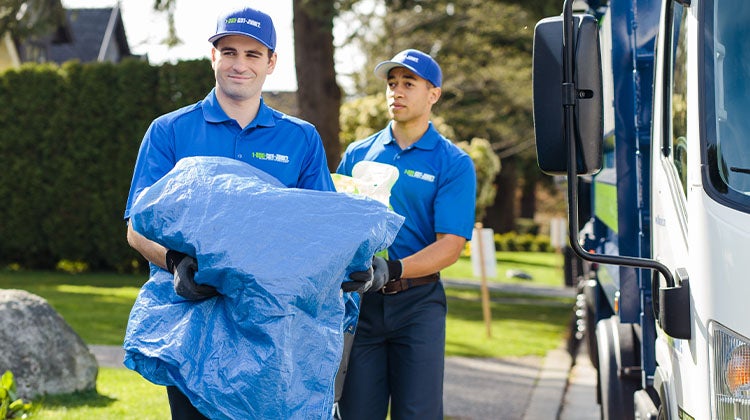 Dispose of Your Appliance with 1-800-GOT-JUNK?
1-800-GOT-JUNK? will make recycling easy and safe. With no hassle to you, we do our best to handle all the steps in recycling, including:
Recovering, treating or destroying the refrigerant properly

Recover, treating or destroying the insulating foam properly

Safely disposing of hazardous waste products such as mercury and polychlorinated biphenyls (PCBs)

Properly recycling used oil in the appliance

Recycling all recoverable, durable materials including metal, plastic, and glass
If you do decide to remove your items yourself, read our blog post on how to carry heavy furniture and appliances safely to protect yourself from getting injured. If you would rather not take a risk and leave appliance disposal to the professionals, take a look at our appliance removal page or contact us directly for a free, no-obligation quote.
Are you ready to reclaim your space from old appliances?
We make junk disappear.
Image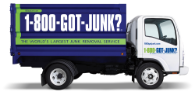 No obligation, in person quotes.
Quick and easy onsite payment.
No hidden fees.
Responsible disposal.